Ultimate Buyers Guide for The Best Batting Tees
One of the most efficient ways to practice your swing is to invest in a baseball hitting net and a tee (that the Pros use), so you can literally jump in and get your practice drills done anywhere – at any time.
Having a good batting tee to hit off off is like having a best friend who is by your side after your girlfriend just broke up with you.
Ok, maybe that wasn't the greatest analogy, but you get the picture: You need a reliable baseball tee… or you could actually be hampering your hitting performance more than you realize.
---
Just Wanna Start Hitting? Quick Summary For The Best Batting Tees in 2023
Tanner Tee Heavy: Smoothly adjustable, sturdy & solid and an all-round exceptional batting tee for all ages & abilities
Tanner Tee Original

:

Another one from the Tanner Tee brand this time with more portability added
BaseGoal Batting Tee

: Travel tee, super-simple to set up at half the price but keeping most of the quality

Champro Heavy Duty

:

A great heavy duty batting tee but at a fraction of the cost
Franklin Sports Baseball Batting Tee:

Budget-friendly,

adjustable batting tee perfectly suited for T-Ball practice




---
Improving Your Swing This Season – and Beyond. 
Not all baseball tees are created equal. In fact, if you purchase the wrong one, you could be hurting your swing.
Trust me when I say this, it ain't fun when you've got the wrong batting tee that: 
The ball doesn't quite sit well on it (half of it isn't showing)
Falls over every time you hit it (disrupting practice and wasting time)
Ruins your bat (chips off wood, dents/scratches aluminum)
Ultimately creates bad habits (that are next to impossible to break)
First of all, that's the main reason I created this buying guide. I (and many of my colleagues) have already lived the reality of using a batting tee that wasn't up to scratch. Frustration set in, focus was lost and so was time and energy.
Not to mention the amount of money lost. 
Second, I want to help really good ball players get to the next level and use what the top players in the world are training with. This site is all about helping all levels of ball players, but I've always wanted to help out the more serious players get to the college and professional levels.
For those aspiring to be great players, you need to have a mixture of both technical and physical development AND have fun in the process. But what about if you're not aiming to be an MLB superstar? That's cool – I mean, the great thing about investing in a solid batting tee is that it's not just for the pros – anyone can use one, for both development and fun.
---
Tanner Tee Heavy: An Exceptional Batting Tee With The Smoothest Batting Experience
Sale
Greatly improve your batting depth
Strong 10lb claw base for extreme balance & less 'creep'
Hand rolled flexible cone for increased ball stability
Quickly and easily adjustable, suitable for youth players & adults
#1 Bestseller across all batting tees on the market
This is the top dawg, there's no doubt about it. If you're looking for a batting tee that doesn't fall over – this is your guy.
The Tanner Heavy Batting Tee is an adjustable tee that can be moved to suit whatever preference you need. It has sizes for:
Adults
Youth
And be set up for the low ball too
It's equipped with a ten pound heavy "claw" that provides three points of contact for extra grip on any type of hitting surface you will use.
The base is solid too. And many of the players we asked reported that even after many swings, it still stays in place. That, my friends, is a rare find.
It has an amazing feel when hitting, meaning you'll feel the ball, not the rubber the ball sits on. 
While it comes with a heavier price tag than the other options we have on this list – this little beast might just be the best batting tee you ever used.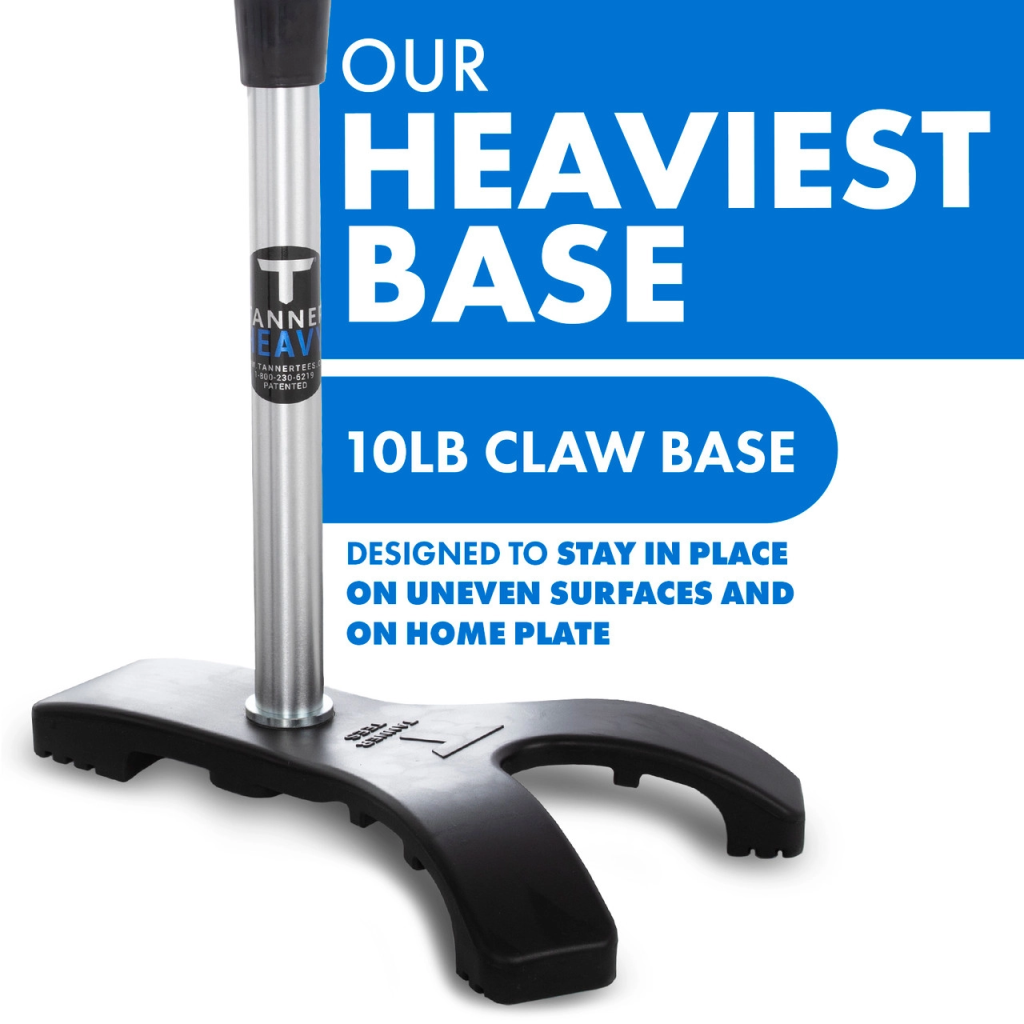 Gain Maximum Balance & Strength While Limiting 'Tee Creep'
One of the stand out features of the Tanner Tee Heavy is its 'claw' design base.
It comes in at 10lbs – roughly about the weight of a gallon of paint. So, not stupidly heavy you dread picking the thing up, but also not light either keeping your batting tee in place.
But the real intuitive design is the 3-points it has. Mimicking the shape of a triangle allows the batting to be used on all sorts of uneven ground.
Think about it for a second, the traditional square-shaped bases, while practical in most cases, don't hold up well when the ground you're placing the tee on uneven foundations.
All it takes is a small raised piece of ground and the 4 corners of a flat base start 'chasing' the ground wobbling all over the place.
Add in the additional time of you carefully trying to find the 'perfect' ground for your 4-cornered flat base – and it can all become a little frustrating to say the least. Let alone the time wasted and constant interruption to your practice.
With a 3-point claw design – none of this is an issue. In fact, not only can you put the tee almost anywhere (over, around or across a raised piece of ground) you can actually strategically place the back claw on a raised surface to get more height and length into your hits and give you more practice in hitting pitches that tend to dip down.
While a very simple design feature on the face of things – don't underestimate it.
Add that all in with the ease of just disconnecting it from the main stem for added portability and you can see from this feature alone, why the Tanner Tee Heavy is popular amongst players & coaches alike. 
Adjust The Height With 3 Range Models
Most battings tees worth their salt are adjustable, the Tanner Heavy is no different. 
However depending on the the purpose you need your tee for there are 3 models you need to be aware of: 
Standard Adult Size: With an adjustable range of 26″ – 43″
Shorter Youth Size: With an adjustable range of 20″ – 32″
Low Ball Size: With an adjustable range of 16″ – 23″
These adjustable levels are easy to do and you'll be covered for all ages, sizes & abilities. 
And while we would recommend age appropriate equipment for youth players, if your young players are ready for a 'step up' in their training, then looking at a larger stem in the models might be a worthwhile consideration. 
Overall, making the tee adjustable to your preferred height is easily done and covers the whole range of ages and abilities. 
Strike The Ball Without Worrying About Breakage
The last thing you want in your batting tee is a weak ball rest that not only breaks easily but chips away at your bat. 
We want to avoid this at all costs. 
So when I took a look at the beautifully hand-rolled cone ball rest, I was not only impressed at the quality and precision in the way it's been made, but also the flexibility this thing provides. 
As you strike through the ball, the pure smoothness of the experience is something to behold. With other lower quality batting tees, you'll feel this impact with the tee through the bat. 
With the Tanner Tee Heavy (and the original for that matter too), on impact the realism in the hit is exceptional. 
The flexible nature of the cone allows you to strike through the ball with unwavering conviction. Further compounding your batting development with consistency – which is a vital fundamental to technique improvement over the long-term. 
And did I mention it was hand rolled? Yeah I think I did, but worth mentioning again because this feature really is a beauty to behold…
Insane Value For Money With Periodic Discounts
It's also worth noting that throughout the year Tanner Tee ran discounts on their Heavy models.
Check the top of this review to confirm if you're in luck.
>> Upgrade your Hitting With The Tanner Heavy
---
Tanner Tee Original: Lighter & More Portable Than The Heavy – But With The Same High Quality
Portable and carry-friendly alternative from Tanner Brand
Excellent reviews & feedback from customers
Hand rolled flexible cone for increased ball visibility & stability
Quickly and easily adjustable, better suited for youth players
#1 Most Popular Tanner Tee Model
If you're looking for something not as 'high tech' as the Tanner Heavy, but you like to walk the road of least resistance – the Tanner Original is a great choice.
First up, it's excellent quality. The Original is an industry leading and also best-seller. It boasts thousands of 5 star reviews and is good for all skill levels.
It's easy to make adjustments with patented hand-rolled flexible rubber top to give you an authentic feel when hitting the ball – whether that's a regulation sized or weighted training ball. 
The Tanner Original is also the smallest of the Tanner brand, so it's great for sliding into a bat bag and bringing it literally anywhere you want. The Ordinal is very lightweight and easy to disassemble.
This is second batting tee in our top 5 from the Tanner brand, so instead of listing out the all the features and repeating myself somewhat, let's just do a quick summary of the attributes it shares with its bigger brother…
Same Exceptional Quality
Tanner Tees are known for their quality and the Original is no different. From the strength & sturdiness of the steel stem to beautifully hand-rolled Flextop ball rest – everything is exactly what you'd expect from a Tanner Tee.
You've also got the same options open when it comes to the range of adjustment (Adult, Youth & Low Ball) and pretty much ready to go out of the box.
Now let's get onto the differences…
Better For Coaches & Player Who Want Bit More Portability
Now, I'm not saying you can't carry the Heavy around – but by it's very nature it's been built to be heavier. That's it's name after all. With the base + stem the Heavy comes in at 13lbs, which is about 9/10ths the size of bowling ball.

So you can get an idea of how awkward it could be to lug it around after a while.
The Tanner Tee Original however comes in at 6lbs, less than half the weight. For reference, this is about 2.5-3 liters of water. So as you can imagine, this makes makes it much, much easier to travel around in a standard sports bag, if that's what you need.
It's also less dangerous for younger kids to move as well.
So, if you're planning to travel a lot with your batting tee then the Original might be the direction you need to take.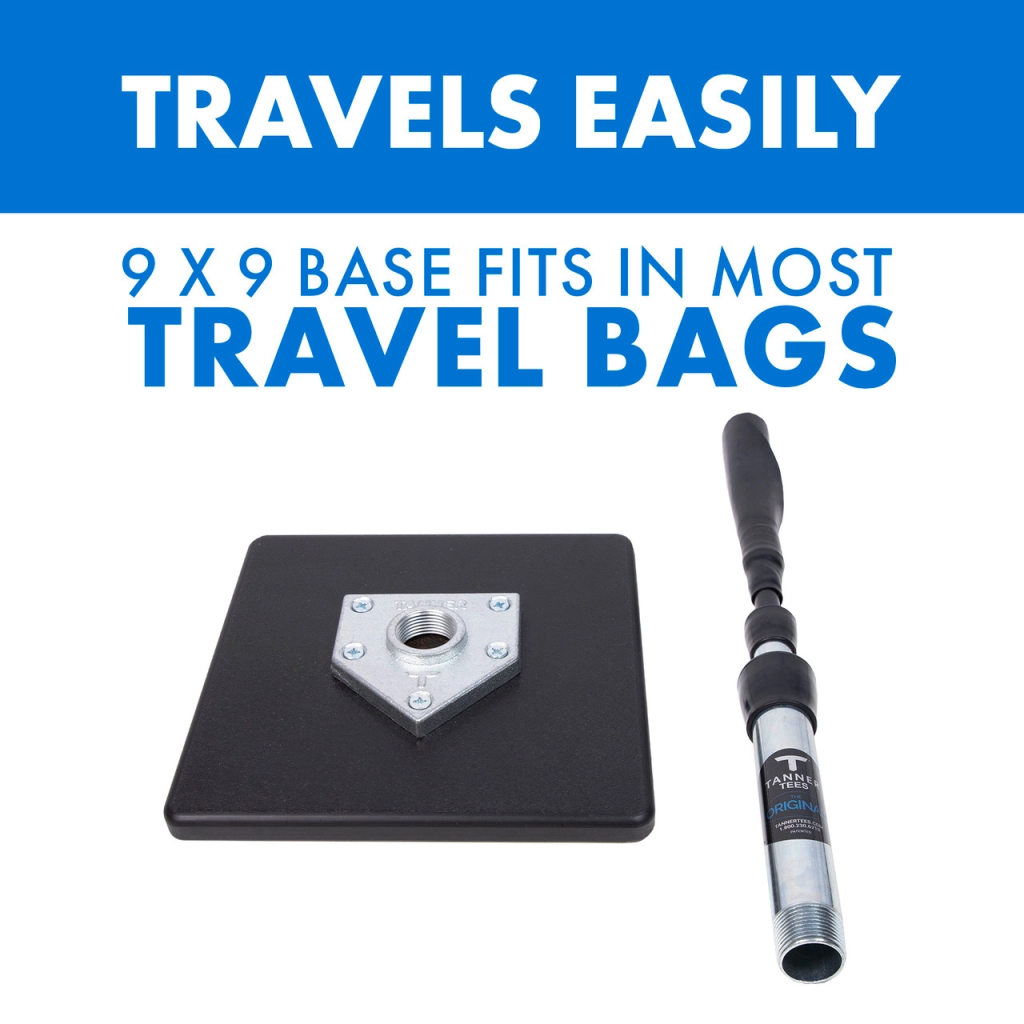 Flat Square Base vs Claw Design
And this is the second key difference between the two models.
As we've already discerned, the practicality of the Claw design from the Heavy model is hard to beat so why would would you even go with the Original in the first place?
Well, if you can be absolutely sure of the surface you're going to be using your batting tee on, and confidence knowing you won't have any issue with a flat base then the Original is a decent option.
That said however, there are additional base weights you can buy to hold the Original in place better – but when you add the cost of this on top of the standard price of the Original, you're basically paying the same for both models. So do with that information as you wish.
All the Excellence But It Comes In Cheaper
And then of course, the Original comes in at around 25% cheaper. And while that's not a solid figure as discounts can be run on both these models at anytime, it's general figure to keep in mind.
All-in-all I really like the Claw design of the Heavy, but if you're sure the surface you're going to use is flat and won't cause any issue, then the Original worthwhile investment, especially considering the additional portability factor the Original gives over it's bigger sibling.
I wouldn't recommend picking up an additional weighted base to hold the Original down better if you're going to be using it with stronger hitters, if that's the case, you'd be best just going with the Heavy and be done with it.
But there's no denying it, with all the same materials, quality craftsmanship and intuitive design features, the Tanner Tee Original great piece of kit at 3 quarters of the price.
Which one you choose, really depends on 2 factors:
Who will be using it?: Stronger hitters or younger players? If the former, then you might be best going with the Heavy model.
Why you need it? If you need something a little more portable that you can carry, then the Original is your best option.
Get The Tanner Tee Original Here >>
---
BaseGoal – Surprisingly Solid, Travel-Friendly Affordable Batting Tee
BaseGoal Batting Tee Baseball Tee, Softball...
While the big brands steal most of the thunder, if you're looking for a batting tee without the bells and whistles but still gets the job done - then the BaseGoal is a worthy competitor...
Travel-friendly batting tee complete with carry bag
Incredible quality at a great price point
Tripod stand for better tee stability
Adjustable & easy to setup
Rated Excellent by Thousands of Customers
So what about if you don't want to be another Tanner Tee brand hero? What other options are on the table?
Well, up until recently, not many.
Until this little fella came into the fray. While the first 2 on our list focused on the claw design and traditional flat base design – the BaseGoal takes slightly different approach. And I like it.
The BaseGoal comes with a Tripod style stand, a nice easy-carry bag for added portability & can be adjusted from 25.5 inches all the way up to 48 inches.
So that range of adjustment actually comes in higher than the Tanner Tees.
The BaseGoal also uses a similar design for their ball rest, just minus the hand rolled part and as expected, this would come in as 'lower' quality because of this. But that doesn't mean you should pass up on the BaseGoal Batting Tee.
In fact, if you're looking for a mix of practicality & value for money – this batting tee should be at the forefront of your decision. We'll agree, if you've got the budget and you need a higher quality batting tee for more scheduled training, we'd recommend one of the Tanner models.
But, if you need something that doesn't break the bank and can afford a slight drop in overall quality in terms of the materials and craftmanship – then here's a deeper look…
Improved Stability With a Tripod Stand
So in our 3rd installment of batting tee bases, here's something that almost provides a mixture of the claw design + flat base design rolled into one.
While definitely not as sturdy as the Tanner Heavy Claw or as strong as the Tanner Original, this tripod design ticks all the boxes you need when it comes to investing in a batting tee.
You won't have to worry about uneven ground as much as you would with a flat base – so that's a huge bonus. And you still get some of the practicality the Tanner Heavy offers with being able to safely and securely place it on multiple surfaces.
Here's a tip from something we found using the BaseGoal – when setting the Tripod up, for additional stability, position 1 leg at the 'back' so that it is facing away from your when hitting. That way you'll find the batting tee far more sturdy as your hitting it.
Other than that, no real issues here to report – and a pretty clever alternative design from the folks at BaseGoal *if* you don't mind a drop in quality that the Tanner Tees give.
Another reason for this design however, is that is makes it really super easy to fold up and carry around with you. Which is what we're going into next…
Lightweight, Portable & Easy To Carry
This is by far the most portable batting tee we've got here when you consider that not only do you have everything you need to fold/unfold the tee with ease, but with a carry bag included, you can just throw the tee over your shoulder and off you go.
Coming in at only 3lbs, makes it half the weight of the Tanner Original and less than 25% the weight of the Heavy. Now of course, with that additional weight comes in the benefit of extra 'sturdiness' – but if you follow the small tip in the previous section, use the right ground to practice on – you'll be good practice.
But at 3lbs, it's far more safe for younger players to carry around themselves.
Another benefit here, is you won't have bits of equipment laying around the place. You can pack it all nicely in the bag and away you go. And because batting tees don't need a net (net's can be tricky to pack away because they get caught on small things and sometimes tear) – you can have the batting tee set up and dismantled in a matter of seconds.
Get The BaseGoal Batting Tee Here >>
---
Champro Heavy Duty– Heavy Duty, Adjustable Batting Tee Suitable For All Ages
Sale
8-9lbs – Heavy duty batting tee at a fraction of the cost
Simple design, easy setup &
Adjustable height from 21-36 inches
Suitable for all ages
Excellent Affordable Heavy Duty Batting Tee
So what about if you're looking for a durable, heavy duty batting tee without the bells and whistles that comes in at a very reasonable price?
What about if you don't want to spend upwards of $100 on a batting tee but you still want that same strength?
Enter the Champro Heavy Duty.
While you're not going to get the same hand made craftsmanship's of either of the Tanner Tees, and you're not getting the same portability as the BaseGoal – what you are getting is super sturdy, durable batting tee that can be used across all age groups.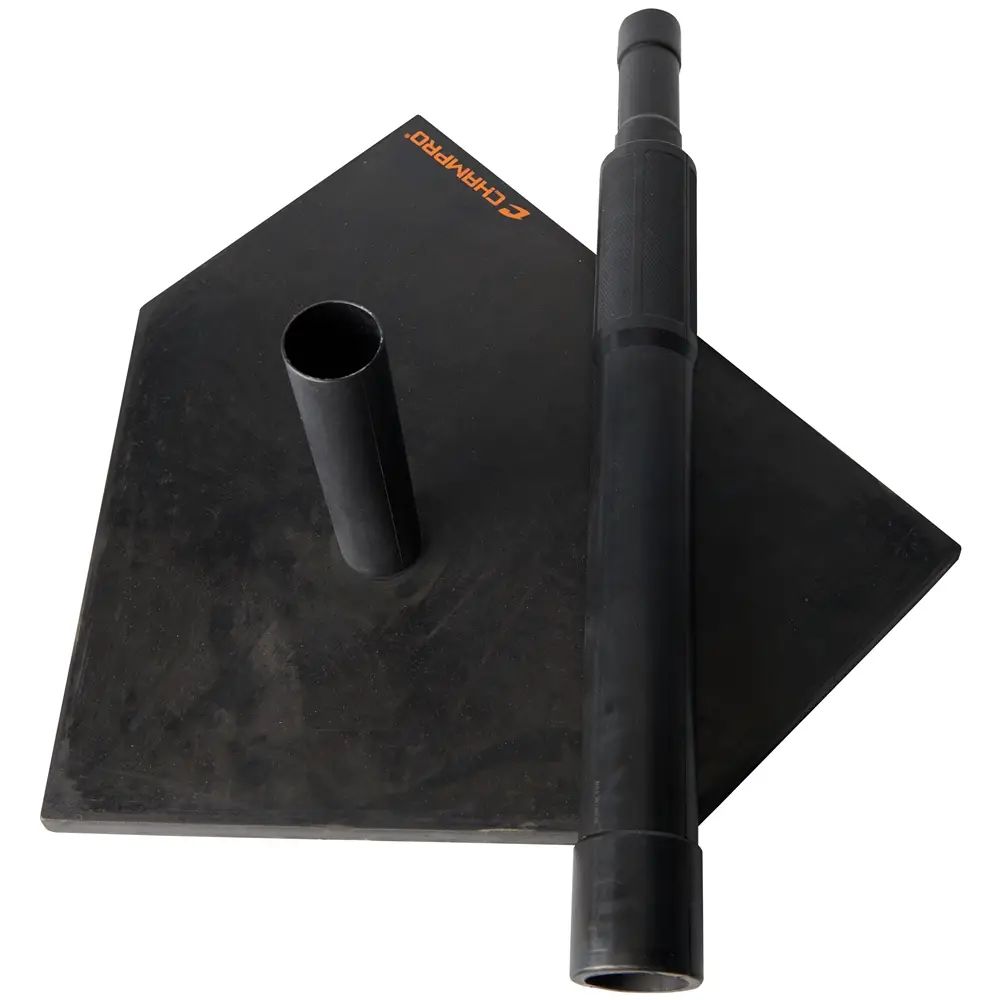 Perfectly Weighted – Nowhere Near Lightweight, But Not Too Heavy Either
Coming in at 8-9lbs the Champro sits almost perfectly in weight between the Tanner Original (6lbs) and the Tanner Heavy (13lbs). This means you still get a batting tee that's well built and ready for hits of all strengths, but you're basically saving yourself the weight of an additional Original on top as it comes in 5lbs lighter than the Heavy (vs 6lbs for the Tanner Original).
The base easily assembled as well. Just simply screw the bottom tube up through the solid base, find an even ground to place it on and you're ready to start hitting.
While not the most portable batting tee, it can still be unscrewed from the base and easily stored with minimal issues.
The base also replicates the official home-plate size which adds a bit more realism to your practice that other batting tees miss out on.
21 – 36 Inch Adjustable Range
With the low depth of 21 inches heavy youth hitters are perfectly suited for the Champro. So if you're concerned that the other tees above might be a little too expensive or not durable enough – the Champro has your budding baseball star covered.
In fact most buyers of the Champro are for youth players. But doesn't mean that it can't be used by adults either. Granted, at a maximum height of 36 inches, this does fall a bit below the standard height for an adult hitter – but again, if you're looking to save some money while catering for both yourself and your kids, it's worth a consideration.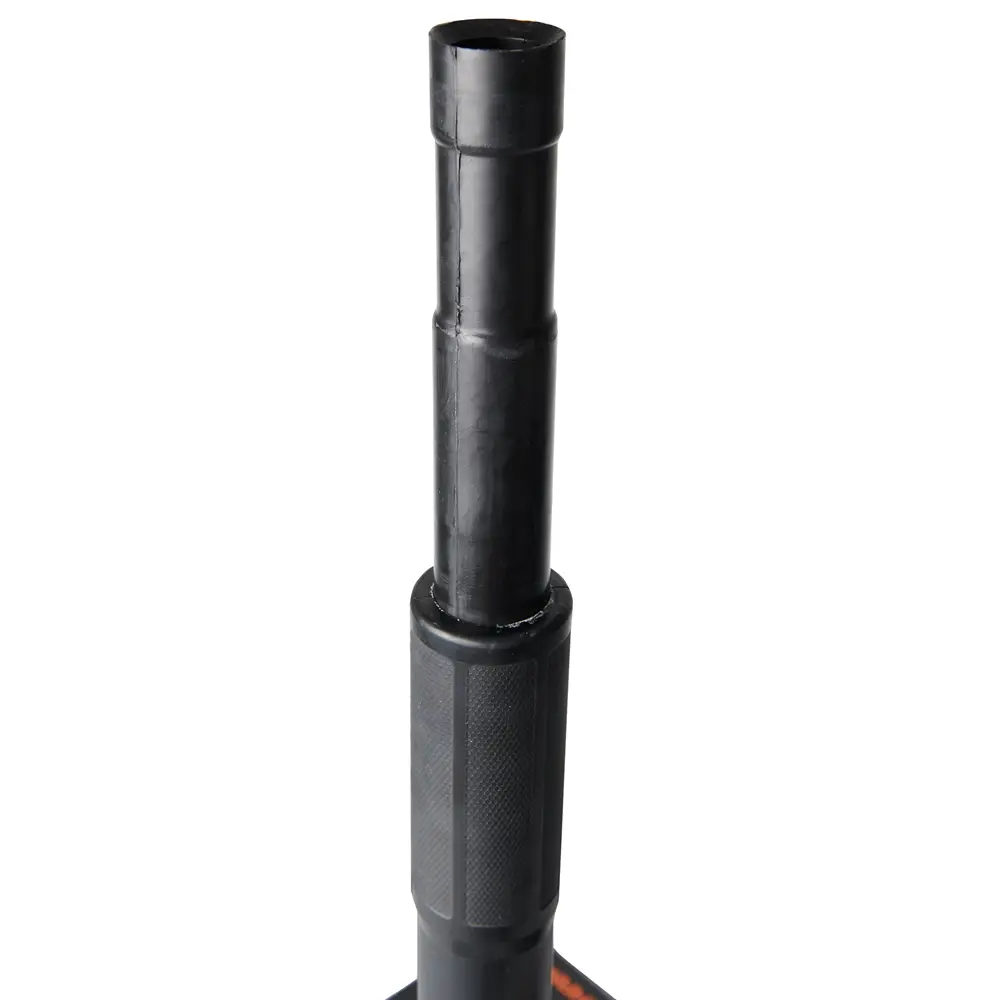 Retail or Plain Box, Sir?
This is actually slightly strange, but worth mentioning as you'll likely be asking yourself the same question when you head over to the product page here…
With most batting tees you'll have the option on the size of batting tee you want to order. So, adult vs youth size for example.
The Champro however offers it's package in Plain vs Retail. This is basically asking you whether you want the batting tee sent in a plain box vs retail box. If you choose plain for example, you'll get your batting tee sent to you without any markings on the box to show what it is inside the box.
I mean, I can't really see why or what major reason this would make a difference, so I'd generally recommend you pick up the plain box.
The Perfect Heavy Duty Tee If You're Looking For a Budget-Friendly Option
To sum up, it comes with a rubber ball rest that doesn't chip away at your bat. It's adjustable through the 21-36 inch range and has a total product weight of 8lbs with the majority of that coming in it's heavy duty base.
And while it's not as portable as the Tanner Original or BaseGoal, and not as heavy duty as the Tanner Heavy – at the current price point it's an incredible bit of value.
Get The Champro Heavy Duty Batting Tee Here >>
---
Franklin Sports Baseball Batting Tee – Incredibly Popular & Affordable With A Great Range Adjustment
Sale
Franklin Sports Baseball Batting Tee -...
Franklin Sports have been on the scene for donkeys years which is testament to the quality of their products standing the test of time. Their batting tee is no different.
11.25lbs, 2nd heaviest batting tee on our list
20-40 inch adjustable height range
Really easy to setup and start using
Suitable for hitters of all ages
Rated Highly By Thousands of Customers
There's no mistaking it, the Franklin Batting Tee is a heavy duty beast.
At 11.25lbs, it comes in as our 2nd heaviest batting tee behind the Tanner Heavy – but at a fraction of the cost. So if you're look for some muscle to your batting tee but don't want shed out the money needed for the Tanner Heavy, the Franklin Sports is good alternatives.
But aside from it's weight, what else has it got going for it.
Well, as with all of our other Top 5 tees, it's super easy to setup. Just screw the stem into the home plate and insert the rubber tee – and you're ready to go.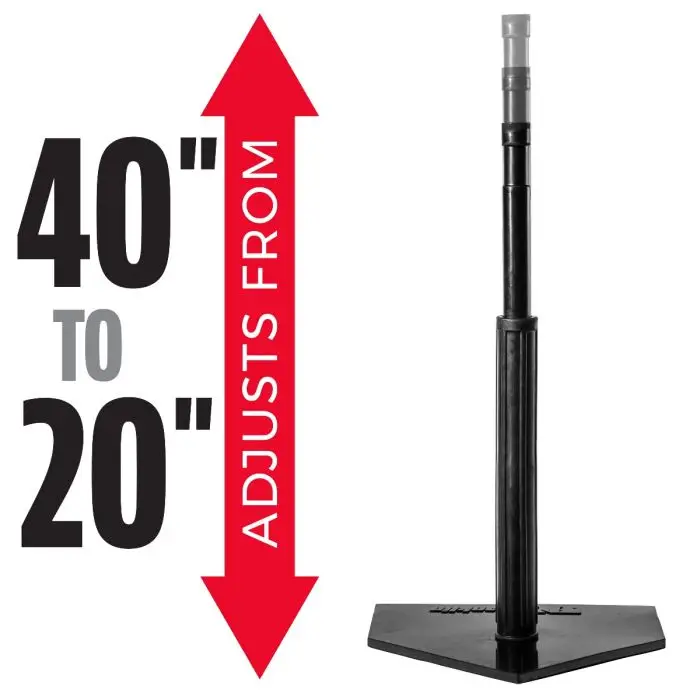 It's got an impressive range adjustment as well, with coverage between 20-40 inches. Which outshines most other batting tees on this list.
We did find however, that our hitting experience with the tees listed above did tend to be a little smoother than the Franklin. But that's just a personal preference.
One downside however to this batting tee and we'd come to expect more from Franklin, but is the availability of the tee. Trying to catch one of these is like looking for the Loch Ness Monster. If you manage to find it, you've bagged yourself a great deal, but you might be waiting for a while.
I'd like to rate it slightly higher on our list, but we just felt we had a smoother hit on the other tees.
Is The Loch Ness Monster There Today? (Franklin Batting Tee 😉) Look Now >>
---
Other Great Batting Tees
Below we've listed a few more batting tees worth taking a look at. Some of these have the potential to make it into our top 5. In fact, some of them have previously been in our top 5 already. But due to a high unavailability time, in order to give you the best recommendations you can make a decision on today – we periodically update the list to include as many great quality battings that are actually in stock today.
So take a look at the list below as by the time you're reading this, each brand may have updated their stock you and you may well be in luck.
Other than availability issues, we've also got a range of other batting tees that may suit your situation better but we felt as team, the above top 5 had outstanding qualities that made them a better match for our list.
Jugs T Pro
Sale
We love the Tanner brand, but there are other top brands on the market worth looking at. The Jugs T being one of them. It's a super portable and durable piece of kit that can be used with both adults and youth players.
With a weighted base to keep it in place you'll find it doesn't wobble after numerous swings and you won't have to constantly reset it either. 
It's also adjustable. With a range as low as 23″ and as high as 46″ – you'll have plenty of room for growth no matter the age, size or skill level of the hitter – allowing the hitter to work on their swing mechanics through the entire strike zone. 
If you've used lower quality batting tees in the past, you'll know how extremely frustrating it can be when the tee slides down the stem after being hit. The Jugs T Pro comes with a nifty little 'interlocking' bolt design that stops this problem. This in itself is a huge time (and sanity) saver.
There's also a patented grip-n-go handle which makes it easy to grab it and transport it anywhere you want. It can also fit in bigger bags just in case you need to bring it to practice.
All-in-all a solid batting tee from Jugs with added portability and more attractive price point the Tanner Heavy. 
---
GoPlus Adjustable Batting Tee
So the GoPlus is a little different from the last two batting tees we've dug into. For starters it comes in much much cheaper than the first two models – perfect if you're on a budget. 
You tend to get what you pay for however when it comes to batting tees – so with that said, how does it hold up? 
Well, surprisingly well in fact – esspecialy for the price. At around the quarter of the price than most other top batting tees on the market you'd be forgiven for not giving the GoPlus a second eye. But you might just be making a mistake…
…the GoPlus is an adjustable batting build to withstand a fair old amount of use with some customers already into their 2nd and 3rd season of use – reporting no problems whatsoever. 
Additionally, the GoPlus comes in a tripod design that gives you a super quick assembly and disessemble time so you can start practice and then pack up and go in literally no time at all. Each leg on the tripod comes fitted with 'feet' pads so that you can ensure practice can take part on all surfaces – indoors and outdoors. 
The GoPlus is a  sturdy, adjustable batting tee that doesn't burn a hole in your pocket. Well worth checking out. 
---
Jugs Quick Release
Sale
Jugs Quick Release T - Pro Style Batting Tee...
On the higher end when it comes to batting tees - but no list would be complete without the mention of the Quick Release. it's got 25-46 inch adjustment range, a quick release 'catch' for the stem and bottom base and is best suited for adults and pro hitters.
Rawlings Pro Model
SKLZ Adjustable 5-Position Batting Tee
SKLZ Adjustable 5-Position Baseball and...
Admittedly, not the best looking tee - but you can bet it packs a punch where practicality and functionality is concerned. With 5 positions to set you tee up from so you can practice outside, middle & inside pitches, an adjustable height range of 20-34 inches - this could be a fantastic addition for a youth hitters game.
---
Baseball Batting Tee Buyers Guide: What To Look For When Choosing Your Batting Tee
When heading into the market for a new batting, there are a few things you'll need to look out for: 
Brand: For starters, if I were buying a tee today, I'd first be looking at the brand name. If you've been in the game long enough you'll have likely heard of Tanner Tee. They are by far the most superior brand because they specifically focus on manufacturing the best baseball batting tees from the ground up. They use high quality materials which help them last longer than any other brand you will find.

That said however, there are also other brands out there that do a really good job – and it all depends on your budget and whether or not you want additional features added to your purchase.  But we'll dig into those in a minute… 
Technology: The next thing to look at when choosing your batting tee is 'technology'. The biggest question at stake here is: When you hit the ball off of a tee, do you feel the ball at contact, or the rubber? Remember, you need a realistic hitting experience during your tee work.
Ball Presentation: How does the ball look when it's sitting on top of it? Again, it must resemble an authentic look so you can focus on hitting line drives, and practice where you need to hit the ball. It needs to mimic as close possible to a real game-scenario. 
Weight Distribution: When it keeps falling / tipping you need to keep spending the extra energy to lift it back up and put it in the perfect place ready for the next hit. Having proper weight distribution will keep your batting tee in tact and in place. This means you'll be able to focus on getting a high number of repetitions in without ever having to move it.
Easy Adjustments: And while we're on the topic of 'moving' – the next question you need to ask yourself is: Can it easily adjust heights? It must be smooth and not over complicated, or else you'll get frustrated with the darn thing. Believe us, that's happened multiple times and it flat out gets old.
Portable: Lastly, if you are anything like us, we love bringing our training aids on the go. We'll show you the ones that are portable so you can bring them wherever you want and be able to fit them in your baseball bag. Having a portability factor in your equipment is an absolute must in today's world. 
---
How We Rank & Compare Batting Tees: Our Expert Baseball Research & Review Methodology
We've chosen these batting tees based on a few variables:
First we've asked people. Yeah, an old-aged technique we know, but hey, it works! 😉 So, who are these people? Some are professionals who work in the game, it's what they do every day. Some are players and some are parents. 
Second, we've used our own experience as coaches and players of game. We've also got some team members in the group who have coaches other sports such as soccer, tennis, dodgeball & badminton. When you've used the range equipment we have across different sports, you start to really understand what goes into a quality piece of equipment that stands the test of time.
And third, we've collated the opinions of current customers from around the different retailers. 
Please note, for some of the products we have listed, we an an Amazon Associate. This means we earn a small commission if you find a batting tee you like and purchase it from the Amazon.com platform. 
But don't worry, this comes as no extra cost to you and it goes a long way to supporting this site. So, thank you in advance 🙂
---
FAQ's: Questions Frequently Asked When It Comes To Batting Tees
In the modern day game, batting tees are an essential piece of equipment if you want to improve your own your kids batting skills. But naturally there might be a few questions in your mind, so here's a few FAQ's to help you out…
---
Don't the batting tees just fall over? Well of course, that all depends on the batting tee you purchase. generally speaking to want to make sure you batting tee has a good, solid heavy enough base to keep the batting tee strong when you hit. But some companies go a little bit further to help. From the Claw Design of the Tanner Heavy to the Tripod design of the BaseGoal – there are different ways to stop your batting tee falling over. The most important decision you have to make, is ensuring you buy the right tee from the list above based on who is going to be using it.
---
Are all batting tees portable? Not all of them. In time gone by, a batting tee with a super portability factor was unheard of. Sure, you can carry most batting tees over a short distance, but if you're looking to pack it neatly and evenly in bag you might run into trouble (and sore arm to boot). These days models such as the BaseGoal and even the Tanner Original have a portability all-round.
---
What country are batting tees manufactured?: Due to higher manufacturing costs in America, generally speaking most of the batting tees are from outside the US – and while this includes China, it doesn't necessarily mean China every time. Also, family owned and run business like Tanner, assemble, ship and even manufacture part of the product right in the USA.
---
Can these batting tees be used for other sports?: While some sports equipment can be transferred across sports – batting tees are not one of them. We'd recommend using your batting tee for baseball only.
---
Now that you know not only how to choose your next batting tee, but you've also got a healthy list of contenders too. 
The truth is, most batting tees aren't worth the product space on the screen you're reading this on. And, unfortunately the lower the price you pay, the lower the quality is going to be. 
Overall, I stand by the Tanner brand – so much so I've included two models in this list. They're great pieces of equipment that won't let you down. 
But there are alternatives
If you need something a little (read: a LOT) less expensive then the BaseGoal might be the best option. Just remember while it is the best budget batting tee – it's still a budget tee. 
But, if you're a fan of Franklin products (and who isn't?) then I'd highly recommend you check out their batting tee. It comes in at a very competitive price and you've got an excellent 20-40 inch range in the adjustment.
Overall any one of these from this list will be worth the money you spend on them. They are built with the highest quality, and they are designed with the ideas of some of the highest level hitters in baseball.
If you're serious about improving your hitting, then a batting tee is a worth while investment.