EMBRACE The Sun With The Best Baseball Sunglasses of 2020
Looking for the Best Sunglasses for Baseball Players?
If the sun is shining on the ball field, which it often is, you need specially designed sunglasses to ensure your safety and boost your performance.
No matter what position you play out there, you need to be able to see the ball. If the sun is disrupting your vision, you're not only putting yourself at risk of getting hit by a ball, you're also letting your teammates down by not performing your best.
We put together a list of the best sunglasses for baseball players to help you find the perfect pair of shades to wear while you're out on the field.
Not all sunglasses are created equal, each pair has its own unique features. The best baseball sunglasses offer a comfortable fit, superior UV protection and sleek yet functional style.
Finding Your Perfect Baseball Shades: What to Look For
There are many factors that need to be taken into consideration when you are looking for the best sunglasses for baseball. You want a pair that is tough, comfortable and stylish; the key is to find the unicorn pair that provides all three.
You also want to consider that fact that you need your sunglasses to provide top quality optics so you can see the ball even when faced when the most glaring of sun rays. To achieve this, you need to look into finding the best polarized sunglasses for baseball. Polarized shades will help ensure you are best protected from the sun's rays.
We break down the most important factors that should play a role in choosing the best baseball sunglasses and why sweet shades help you play better:
How Should Sunglasses Fit?
When your playing baseball, or any sport for that matter, you are moving around a lot and sometimes your movements are quick, jerky, and sudden. A pair of glasses that do not provide a firm fit on your face can fall off, move, and cause your performance to suffer.
To avoid this, you should take the time to find a pair of shades that fits your face and head best. Every person has a different head and face size and shape.  You need your glasses to be both snug to your face while also maintaining a level of comfort that allows you to wear them through the whole game.
If you choose a pair of sunnies that are ill fitting, chances are you will be anxious and uncomfortable which can negatively impact your game. No matter what brand or type of glasses you choose, it is imperative that they are comfortable for you.
What Types of Lenses Should You Look For?
One of the most important parts of your sunglasses are the lenses. Afterall, the lenses are what protects your eyes from the sun which is the main reason for wearing them.
The best lenses will have anti-scratch and anti-smudge protection built in which ensures that your lenses will last and there won't be any obstructions to your vision. Not all glasses have lenses that have both scratch and smudge resistant properties, so be sure you weigh this into your buying decision.
Additionally, you need to consider the sunlight protection that your shades offer. This is important for everyone to consider, but especially those who are particularly sensitive to the sun's UV rays.
We highly recommend polarized sunglasses for baseball players with extreme sun sensitivity as they provide advanced optics inside the lenses which gives the best protection from UV rays possible.
Is Ventilation Important?
This is a characteristic that gets less attention than others when looking for sunglasses for baseball, but believe us, it's an important one.
Whether you are out on the ball diamond or on the soccer field, airflow during intense physical activity should be considered if you are wearing glasses. As we mentioned, you do want your glasses to be snug and fitted to your face, however, you don't want them to be sticking to your face due to a lack of airflow.
Luckily, there are many sunglass options that have special ventilation pieces integrated into them as well as nose and temple area airflow regulators. This plays into the comfort factor of your sunglasses as no one wants a pair of hot, heavy glasses stuck to their face while trying to play.
Review Section: 7 Best Baseball Sunglasses
This list won't be the most expensive, but it also won't be the cheapest. It's a list that will help you play better ball when its sunny outside.
Let's jump into it, and get started!
#1: Under Armour Men's Core 2.0
With a brand that is synonymous with athletic gear, you can trust that you are getting a pair of shades that was built with athletes in mind. The best part? These shades are a fraction of the cost of other premium brands.
The frames on these are crafted from a combination of titanium and Grilamid, which means that are engineered for maximum impact resistance. In the case of a ball or bat to the face, you and your sunglasses would be protected thanks to the strength and durability of these.
Additionally, these contain Under Armour's "ArmourSight" lens technology which boasts 10x more strength than traditional lenses and 20% less peripheral distortion, giving you the best shot at seeing clearly from all angles while your out on the field.
Pros:
Extra strong
Affordable price with a reputable name
Integrated technology designed for clear sight and protection when playing sports
Cons:
Non-polarized
#2: Oakley SI RADAR EV PATH PRIZM MARITIME POLARIZED OO9208-30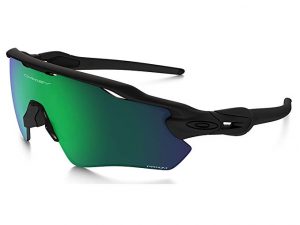 It's a tough call, but we're going to go ahead and say that the Oakley SI Radars are the best polarized sunglasses for baseball thanks to their unique design and superior UV protection.
The best part of these glasses is that they are designed to be much taller than traditional lenses which means their coverage is extended to your upper field of view. Your shades are going to obstruct your view when your looking up to catch a fly ball.
These are constructed from a stress-resistant frame material that is both lightweight and comfortable for all day wear.
Pros:
Polarized lenses for superior sight
Taller lenses that cover your entire field of vison
Cons:
Some players complain that the lenses are too large for their face.
These definitely take the cake as some of the highest quality sunglasses for baseball out there. While these are marketed as golf glasses, trust us, these are perfect for wearing out on the diamond too.
The Show X2 glasses have a ventilated nose bridge which provides the player with superior comfort and reduces the chances of having your glasses fog up on you.
Nike has optics built right in that offer the player precise vision and even enhanced peripheral vision. The importance of your peripheral vision while playing baseball cannot be stated enough, so this is a huge benefit of this pair of shades.
Another cool option with these glasses is the ability to quickly and easily pop on different colored lenses for better eye protection in certain conditions or just to change up your look.
While these provide great optics, they are not polarized. If you are someone who is extremely sensitive to the sun's rays, you may want to select another pair that is polarized. Otherwise, these glasses really have some great features and qualities that make them a top pick for many players.
Pros:
Nose bridge ventilation for maximum airflow
Easy to interchange lenses
Cons:
Non-polarized
#4: Oakley Men's OO9188 Flak 2.0 XL
Not surprisingly, another pair of Oakley's made the cut. Oakley crafts their sunglasses with world class athletes in mind, so it is no surprise that they have some of the best sunglasses for baseball.
This particular pair is the perfect mix of ruggedness and style while also maintaining a lightweight and comfortable feel. Every inch of the lens of these shades are optimized with high definition optics for superior sight in any condition.
These lenses are non-polarized, so if you are looking for polarized, you may want to try another pair. With a classic sport design and many colors options to choose from, these shades are versatile enough for any player.
Pros:
Rugged yet lightweight design
High definition optics
Sleek styling with many color options
Cons:
Non-polarized
No ventilation system
#5: Nike Men's Ignition R
Upon first glance at these glasses, the first thing you may note is their classic, simplistic styling. But don't be fooled by their simple look, the Nike Men's Ignition sunglasses pack a powerful punch when it comes to functionality.
It is clear that Nike designed these shades with ball players in mind thanks to their many features that improve your on the field sight and performance.
With Nike Max Optics, you have precise visual information from all angles of view. Additionally, the lenses are deep cut for maximum optic coverage.
The ventilated rubber nose bridge helps keep you cool and comfortable while also reducing your chances of fogging up. These provide a close but comfortable fit with the help of rubber grips on the temples which keep the glasses in place during high impact play.
Pros:
Comprehensive optic technology for best sight
Ventilated nose bridge
Polarized
#6: Under Armour UA Rival Wrap
Under Armour designed these with one thing in mind: athletic performance. These shades are perfect for baseball and many other sports alike.
These come equipped with Under Armour's ultralight ArmourFusion frames which were designed for maximum strength and durability. One of the best features of these sunglasses is that they feel like they were custom made to fit your face thanks to co-molded temples, three-point grip and the adjustable nosepad.
These provide a secure, yet comfortable fit that will leave you confident throughout the whole game. If you are someone who is hesitant to purchase a pair of sunglasses for baseball because you think they may interfere with your game, this is a great pair to start with. They are lightweight and fitted, ensuring they stay comfortably in place all day long without interfering with your performance.
Lastly, the lenses are crafted from Zeiss brand materials. Zeiss is well known in the medical industry for use in microscopes. Kudos to Under Armour for utilizing this superior and advanced technology in their lenses to allow their users to achieve seriously enhanced vision.
Pros:
Secure, custom feeling fit
 Unique lenses for advanced sight
Cons:
Non-polarized
#7: Franklin Sports MLB Deluxe Flip-Up
We all know that the sun can be tricky, especially on a cloudy day and no one has time to keep putting on and taking off their sunglasses. The solution? Flip-up lenses!
This particular pair is sponsored by the MLB and gets our vote as the best baseball flip-up sunglasses. With flip-up shades, you have the convenience of just reaching up and flipping up your lenses when you want to see with your natural vision.
This comes in handy when the sun tucks behind a cloud and leaves your vision darker and less clear when you have your glasses on. You get the best of both worlds!
Pros:
Flip-up shades!
Backed by MLB
Cheap
Cons:
Only one color choice
Frames aren't as durable as more expensive competitors.
Embrace The Sun From Here On Out!
Having a quality pair of baseball sunglasses can seriously enhance your performance out on the field. A good pair of shades will protect your eyes from not only the sun, but also dirt, sweat and rain too.
For other equipment reviews, visit our review page by clicking the link below:
https://mindfusebaseball.com/best-baseball/
All the sunglasses that we highlighted have features that were designed with the serious athlete in mind. These were made for long days on the field.
With the right pair of baseball sunglasses, you can take your game to the next level without ever having to worry about them getting in the way of your performance. In fact, these specially designed sunglasses were engineered to improve your performance. Always remember, our buying guide will help you choose the best baseball sunglasses. Look Good, Play Good!