Batting gloves are an exceptionally important piece of equipment and gear for baseball players. There are so many options to choose from, and it can be overwhelming.
First off, you don't want to get a pair of gloves that will fall apart much quicker than others. The good news is that they are relatively inexpensive so you can pretty much reload on a new pair whenever you need to.
Second, not all gloves are created equal. Do you think you need a great pair to be an elite player? We've done lots of research. See the results we found.
Mind Fuse Baseball has created an amazing buying guide to help you choose the right pair.
Ask any good ball player and they will be quick to tell you that batting gloves play a key role in consistent hitting at the plate.
Some of the most prolific hitters use gloves to help have a better grip when stepping up to the plate. They also help with the stinging feeling, especially when it's cold out.
In addition to why gloves are important, we would like to point out that the best time to buy them is in the off-season. The reason is because the price will be at its lowest and there will be more options to choose from.
For those who get blisters, we will show you which gloves to consider. Mind Fuse Baseball knows that is a major concern for many players, so we kept that in mind when creating our Top 9.
We recommend buying a few pairs of gloves so you have back-up pairs. In fact, we also highly recommend practice batting gloves. Best used for BP in the cage or at practice.
Finally, you should always make sure that the gloves will fit perfectly. This will avoid having blisters or the bat slipping out of your hands.
Best Batting Gloves for Baseball 2020
Here is the top 9, just like the batting order in baseball. We'll start it off with what we think are the top gloves from 1-9. Let's take a look at the amazing line-up.
#1: BRUCE+BOLT LC Premium Pro 100% Cabretta Leather Long Cuff
Leading off is the BRUCE+BOLT brand.
These gloves may be the highest quality on the market. They are definitely one of the most durable in baseball.
Made with the most impressive Cabretta leather and stitched to perfection, the Bruce+Bolt LC Premium Pro will give you the feel you're looking for.
Did we mention the packaging?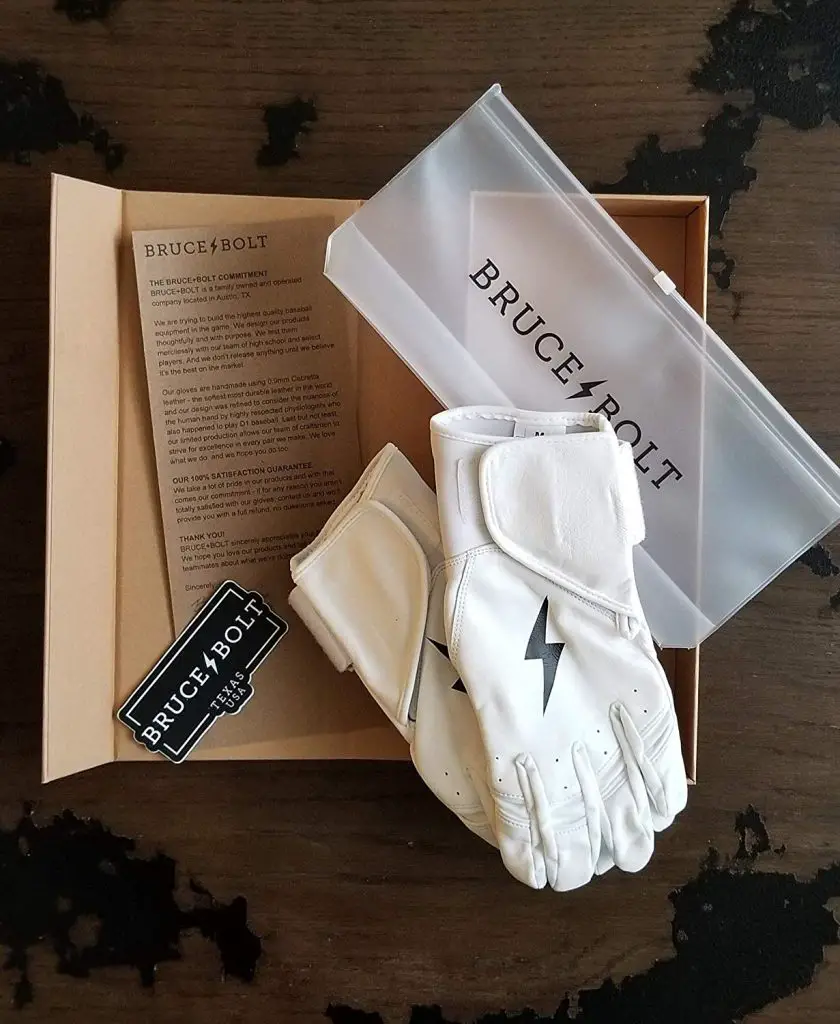 First of all, it is seriously unbelievable! Extremely high class packaging. The first thing you'll see is the package, and it just sets the tone for what's inside.
Second, rather than feeling like you're opening a pair of regular gloves, BRUCE+BOLT knocked this packaging out of the park! It's like a high end gift!
Due to the high quality leather, the palms are very smooth and have a soft feel. We all know having that "soft" feel is hard to come by. This company nailed it.
The expression "fits like a glove" is literally what Bruce+Bolt set out to do. They studied the human hand inside and out to see how the glove could fit better than any other on the market.
Bruce+Bolt also tested these gloves with Division 1 baseball players. The results were breathtaking. Every player could not believe how comfortable, soft and durable they were.
After the players tested them, most said these are the best baseball batting gloves for 2019.
Why choose high quality leather?
Your hands sweat in the summer heat, thus making your gloves all sweaty. Usually with cheap batting gloves, you'll pull them out for the next day and they'll have cracks in them. You may even experience stitching falling apart.
It's worth buying a high quality pair of batting gloves for sweaty palms. They will last longer and you won't have to worry about them falling apart. If you go with low quality, you'll have to keep buying new pairs.
Here's the breakdown on the scoresheet:
The Grip: The best in baseball, that's for sure. The top quality leather that these gloves are made with provide excellent grip.
The Fit: No more loose gloves with BRUCE+BOLT. These things also last forever it seems. The gloves are a snug fit and almost feels like they are part of your skin.
The Durability: These gloves have been reviewed by hundreds of players on Amazon and many other websites that sell them. Almost every player that has worn these have reported that they last the longest compared to any other glove.
The Color: This is the only downside on this brand. There are only a few color options. We didn't want color to get in the way of ranking the top batting gloves. Mind Fuse Baseball recommends these as the first choice.
#2: Men's Nike MVP Edge Baseball
Batting in the two hole is the Nike MVP Edge Baseball batting glove. Does it get any better than Nike? Seriously, they have some of the best gear in all of sports.
First off, these are a premium pair of gloves. They look great and the performance are said to be even better.
Second, these are built for the advanced hitter. Thus making these one of the better options to choose from.
Mind Fuse Baseball breakdown:
The Grip: Described in many reviews as "tacky" and "sticky." It is just what you want. The smooth leather provides great textured grip and control.
The Fit: Absolutely perfect. These bad boys are as snug as they come. Having a tight fit is a big time advantage. The hook and loop strap makes them super adjustable.
The Durability: The rolled seams and high quality of the Nike brand make these gloves as durable as it can get. They have the ability to last all season, depending on how many games you play.
The Color: Not a huge selection here. Mainly black or white. If you are an old school type of player the color thing shouldn't bother you.
#3: Spiderz Batting Gloves with Enhanced Silicon Spider Web Grip
Third in the lineup are the Spiderz. This brand produces some of the highest quality products in the market today. They are the brand where performance meets style.
Specializing in batting gloves, the Spiderz LITE Silicon Spider Web Grip are built for ideal comfort. You will love to wear these. The all neoprene and Lycra top hand gives your hand some breathing room.
The Grip: Outstanding. The silicone spider web palm creates maximum grip for the serious hitter.
The Fit: These Spiderz have what's called the Flex Cut Knuckles. This gives the baseball player a super snug fit, which will help improve performance. Never worry about loose gloves anymore because the Spiderz are constructed with a durable, triple reinforced wrist strap.
The Durability: Many ball players reviewed these gloves as "lasting a whole season" and "high quality." They are also equipped with silicone, spandex, neoprene and lycra making this batting glove a reliable one.
The Color: Multiple colors all around. The best thing about Spiderz is their design skills. You can choose from over 30 different color designs. Chances are they have your colors.
#4: Franklin Sports MLB CFX Pro Digi Series
Batting cleanup and built for power, The Franklin brand creates some of the highest quality. The CFX Pro Digi Series is one of the most popular items in the baseball market.
Long lasting and a cool style, these gloves will instantly improve your hitting because of the tight fit and smooth, but sticky palms.
Many professional baseball players are using this glove and it's obvious that they are. The palm features quad-flex creasing. This helps the gloves not get bunched up after you sweat in them.
Let's take a look at the score sheet:
The Grip: The strategically-etched groove patterns greatly improves the grip.
The Fit: This is one of the main features of this glove, besides the style. Tectonic fit inserts helps the flex without adding bulk to the back of the hand. No bunches of the palm here as the quad-flex creasing prevents that from happening.
The Durability: So many great reviews with these gloves. Many ball players are reporting that they are "the top batting gloves to prevent blisters that I've used" and "lasts a long time." You will love your choice if you decide to buy any Franklin brand in 2019.
The Color: There are over four colors to choose from. Really cool style and trusted by many professional ball players in the MLB.
#5: Clutch Sports American Flag
The number 5 hitter is the Clutch Sports American Flag by Clutch Sports Apparel. These are known for being restriction free for ultimate comfort and mobility.
The pre-curved finger pattern construction provides a natural fit. It's nice not to have to break them in right away. These provide that.
There are many ball players that buy these because they are some of the best batting gloves for blisters.
The Clutch Sports American Flag have performance mesh, which adds enhanced breath-ability. They also have the performance palm. This allows for a great grip.
Long lasting and a cool style, these gloves will instantly improve your hitting because of the tight fit and smooth, but sticky palms.
First of all, not many players know about this brand. However, they are gaining popularity by the day and can last over 1,000 swings. They also have some swag to them so you can look good swinging that bat.
Here's the score sheet breakdown:
The Grip: Amazing grip. Performance palm built that helps you really "feel" the baseball bat. Any good ball player will tell you that feel is such an important part of hitting. This pair will give you the feel you're looking for.
The Fit: The phrase "fits like a glove" comes to fruition the with Clutch Sports Apparel brand. The pre-curved finger pattern construction helps mold the glove to your hands. This makes for a super tight and snug fit. It almost feels as if it is part of your hand.
The Durability: The one thing you want with any equipment in baseball is dependability. Can you depend on the equipment when the game is on the line? With Clutch Sports, you can.
The Color: Choose from a nice set of colors and designs. There is also an all-white color for some serious swag.
#6: Under Armour Men's Harper Pro Le 18 Gloves-Liners
Coming in at number 6 is Bryce Harper's Under Armour batting gloves. This is an extremely unique pair filled with passion, design, and usability.
Perform at your very best with the featured 72% leather, 12% nylon, 10% elastane, and 6% polyester. That's a smooth-felt glove right there.
Bryce Harper, one of the most powerful hitters in all of baseball uses these. One would think they must be good if he is wearing them.
The fact is that Under Armour is a trusted brand in pretty much any sport. They are just starting to make their mark on baseball and with good reason.
You will not be disappointed if you purchase these gloves, and we will let the scoresheet tell you why:
The Grip: With a 72% leather, you will feel like Thor with his hammer. Full control over your baseball bat.
The Fit: Extremely tight. You will feel like there is just enough room to make your hands comfortable. There is plenty of padding, but it doesn't give way to a loose fit. It's very tight.
The Durability: This is probably one of the down sides to these gloves. They won't last as long as the ones mentioned above, but that's why they are deeper in the lineup right? It is still a strong glove and they should last an entire season. It would be a good idea to invest in some practice gloves as well, like most players do.
The Color: This is a one of a kind design and color. The Under Armour Men's Harper Pro Le 18 Glove Liners are unique. Not many of them out there, which is nice because you probably won't see your teammates wearing them.
#7: Franklin Sports MLB Cold Weather Pro
Lucky number 7! Mind Fuse Baseball wanted to make sure we had the best cold weather batting gloves for anyone playing in the Northeast.
It is not fun when you hit a ball in the cold off the end of the bat, or anywhere besides the sweet spot. You get that stinging feeling and it hurts.
The only way around this is to invest in a pair of cold weather gloves. Besides being great for playing in cold weather, these are also considered top baseball batting gloves to prevent blisters.
These gloves retain heat while providing a flexible fit. This series is highlighted with an insulated neoprene back and Velcro wrist strap.
On to the scoresheet:
The Grip: Equipped with the quad-flex creasing for a super comfortable grip. In cold weather, you won't find a better tacky feeling. You will feel like you have complete control even in the toughest weather.
The Fit: With cold weather gloves, you would think you need to sacrifice feel for comfort. However, even the best cold weather batting gloves have a great fit. Franklin makes it happen with these.
The Durability: These gloves thrive in this category. Hopefully you aren't wearing these all season, if you know what we mean! You will be able to have these gloves for a couple of seasons.
The Color: A few standard colors to pick from. Nothing fancy here as you are just looking to get the job done – prevent stinging feeling from hitting a baseball in cold weather.
#8: EvoShield Protective Speed Stripe
Reaching the end of the lineup, number eight is an excellent choice. The EvoShield brand is making its mark in the baseball world market.
Designed to help you be at your very best day in and day out at the plate. Consistency is the name of the game for elite hitters. The Protective Speed Stripe make that dream a reality.
Notable players in the Majors are starting to use this brand. Many of the top prospects from college and high school are also trying them out.
The results? Pure gold. You will not be disappointed with this purchase. It can be considered a performance enhancement piece of gear!
What does the stat sheet show?
The Grip: Made with an extensive grip to give you ultimate control. The top ones always have a good grip, which makes the EvoShield one that you can count on. The feel you acquire with these gloves are unbelievable.
The Fit: The reviews report a sleek pull tab to secure the supportive wrist strap. These will be super tight, which will help avoid getting blisters.
The Durability: Built to last, these gloves are made with top grade leather. A 55% premium leather, 38% nylon, 5% neoprene and a 2% TPU. The extended grip helps the durability as well. You can count on these gloves in the most pressured moments at the plate.
The Color: There are a few colors and sizes to choose from. An all-black or an all-white version is available. In addition, these gloves have multiple color schemes ready to be ordered.
#9: Under Armour Men's Clean-Up VI
Last, but not least, batting last in the ninth position are the Under Armour Clean-Up VI gloves.
First of all, these gloves are almost just as good as the ones mentioned above. So, do not take them lightly.
Second, you are looking at multiple 5 star reviews from real baseball players all over the world. They are a very trusted piece of gear and equipment.
Because of the goatskin leather palm, this pair delivers soft comfort and big league durability. What you always want to look for is dependability. You can count on these gloves helping you when the game is on the line.
Super popular among the up and coming top prospects in baseball, the Under Armour Clean-Up VI can give you an unstoppable advantage.
Under Armour has really nailed this pair of gloves for anyone looking to improve their performance at the plate.
The Grip: One of the best batting glove grips because of the embossed synthetic overlays. This gives the gloves super tacky grip without losing flexibility.
The Fit: Comfortable, roomy, but also snug at the same time. What other gloves can you find all of those characteristics? Palm side finger perforations deliver ultimate ventilation for sweaty hands.
The Durability: Built for tough conditions. Extreme heat, cold weather, you name it. The goatskin is reliable as it gets.  
The Color: There are tons of colors to choose from. However, there are limited sizes for the colors that are popular. We know, that's a classic. Get 'em while their hot!
What Goes into Our Reviews?
First off, Mind Fuse Baseball loves to review baseball equipment. It is fun and it can potentially help someone reach a final decision.
Second, we pride ourselves in knowing baseball better than anyone else out there. Our team of professional experts know exactly what to look for.
With that being said, we really value what the major leaguers, top prospects in college and the majority of high school baseball players wear. Our connections run deep in the world of baseball and we are always asking around what is working and what is not.
Frequently Asked Questions
Do Batting Gloves Really Help?
If you want to take your batting game to the next level, then yes they really help. They provide better control over the baseball bat, confidence and a protective layer on your hands.
Do They Help With Vibration?
The short answer is yes, they help with vibration. When you hit a ball on the end of the bat, or not in the sweet spot, then your hands might experience a "stinging" feeling. A good pair can prevent the stinging feeling.
How do you measure your hand?
You are supposed to measure from the end of your palm to your fingertips. Then, follow a guided chart to see what size your hand fits into.
Find the right size by using our measurement guide. You can find that here.
How Should They Fit Your Hands?
Everyone is different on how they want them to fit. However, the best set should fit super tight and snug.
You should have breath-ability in the gloves, but you want them to be very tight. This prevents blisters and helps give you full control over your swing.
What Hand do you wear a Batting Glove on?
Well, when you are batting you should wear them on both hands. However, in the field, players typically wear one underneath their glove.
Thanks for reading this post, we hope you find it easier searching for the best baseball batting gloves for 2019.
Did you know that we also reviewed the best baseball gloves for 2019. Mind Fuse Baseball has you covered through every equipment buying process.