If we were to rank items of baseball equipment in terms of their importance, batting gloves would be right up there.
It's not uncommon for batting gloves to have a short life span and with some brands, you'll be lucky to get a season's usage out of them, that's why it's vital that you choose your gloves carefully. 
At Mindfuse, we understand that it's not always easy to find the time to put into product research, that's why we take great pleasure in compiling our buying guides.
We're dedicated to finding the very best products out there in order to make your life as breezy as possible, and our batting gloves guide is no exception.
A solid, durable pair of gloves are imperative to getting the very best out of your batting.
There's really nothing worse than trying to play with the pain of blisters on your palms or around your thumbs from the repetitive strain of slogging without gloves.
Combine that with a cold day and your performance is really going to suffer.
As is often the case with baseball equipment, you get what you pay for and if you want to protect your hands whilst getting the most out of your batting gloves, spending that little bit extra on a quality pair will pay back in dividends.
So, what makes a good pair of baseball batting gloves?
Let's take a look.
Top 7 Best Baseball Batting Gloves 
Now that we've established the most important features that go into making a great glove, let's begin our rundown of the top 7 products available on the market right now…
#1 Baseball Batting Gloves
#1: BRUCE+BOLT Batting Gloves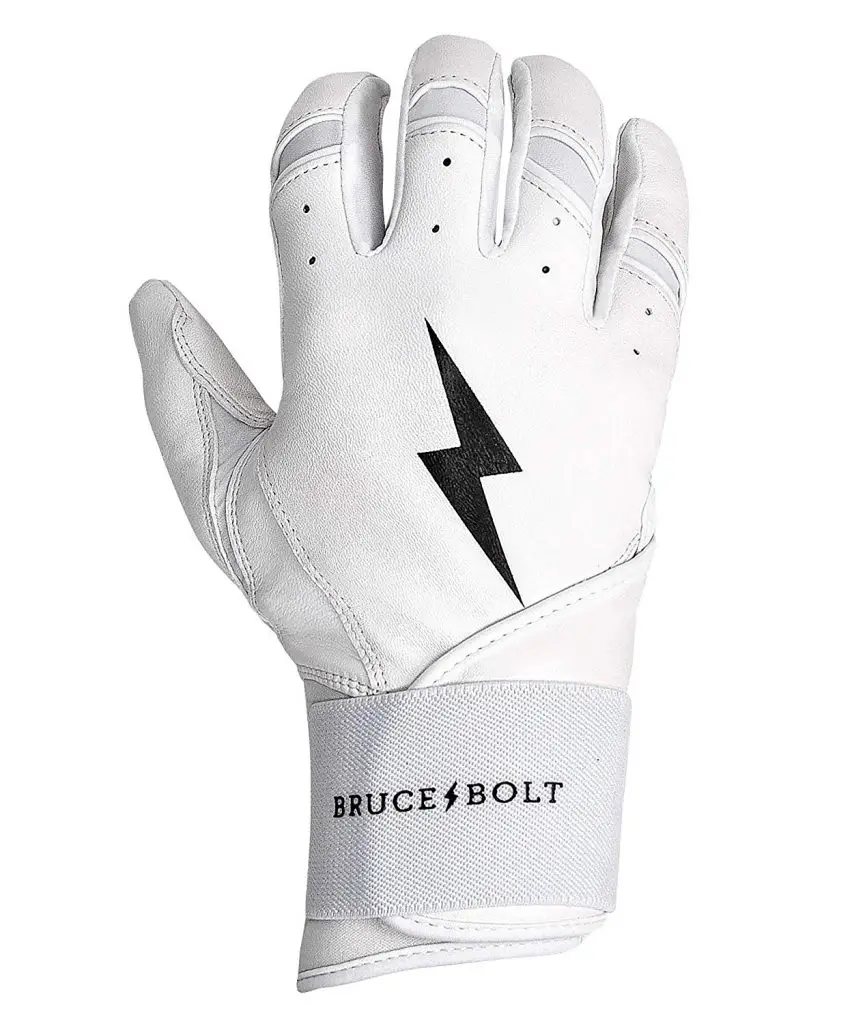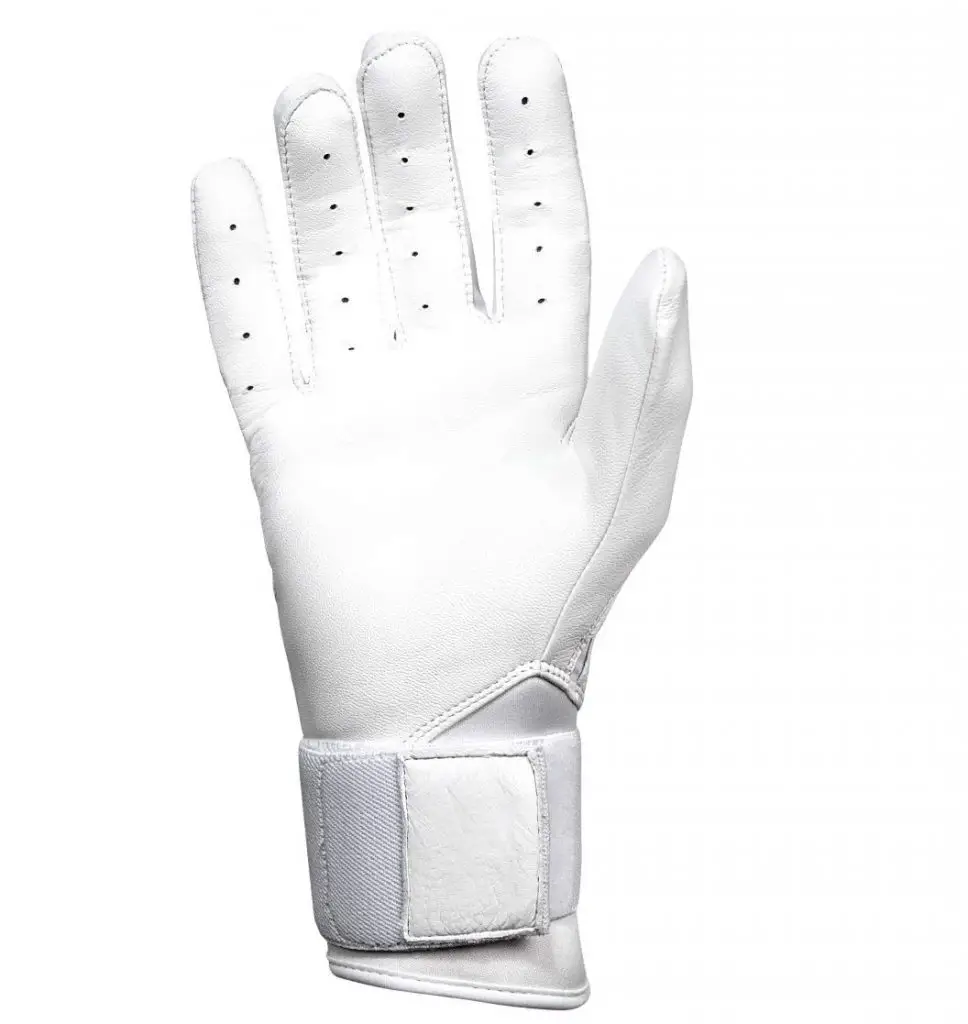 It really doesn't get much better than the Bruce Bolt Batting Glove and it's our opinion that you'll struggle to find a better design.
They look great, they feel great and we really believe that they're a game changer in the glove market.
Hand-crafted with 0.9mm Cabretta leather, these gloves are super soft and offer the best feeling for your hands. While the leather is soft, the durability, protection and warmth it offers is phenomenal.
The palm is reinforced by double padding and extra protection on the more delicate parts of your hand that are often exposed to powerful pitches or more vulnerable to rubbing against the bat like the heel of the hand and crotch between the thumb and index finger.
This will allow you to play with both comfort and confidence.
The gloves have a classic look and are incredibly stylish with the black lightning bolt logo against the premium white leather.
The one drawback we have to mention is that there isn't a great choice of styles or colours available in this model, but when they look this good and fit this snugly it's not too big an issue.
What's more with this glove is that it's near impossible to find a bad review.
It seems everyone who has bought or taken these gloves for a test run is extremely happy them.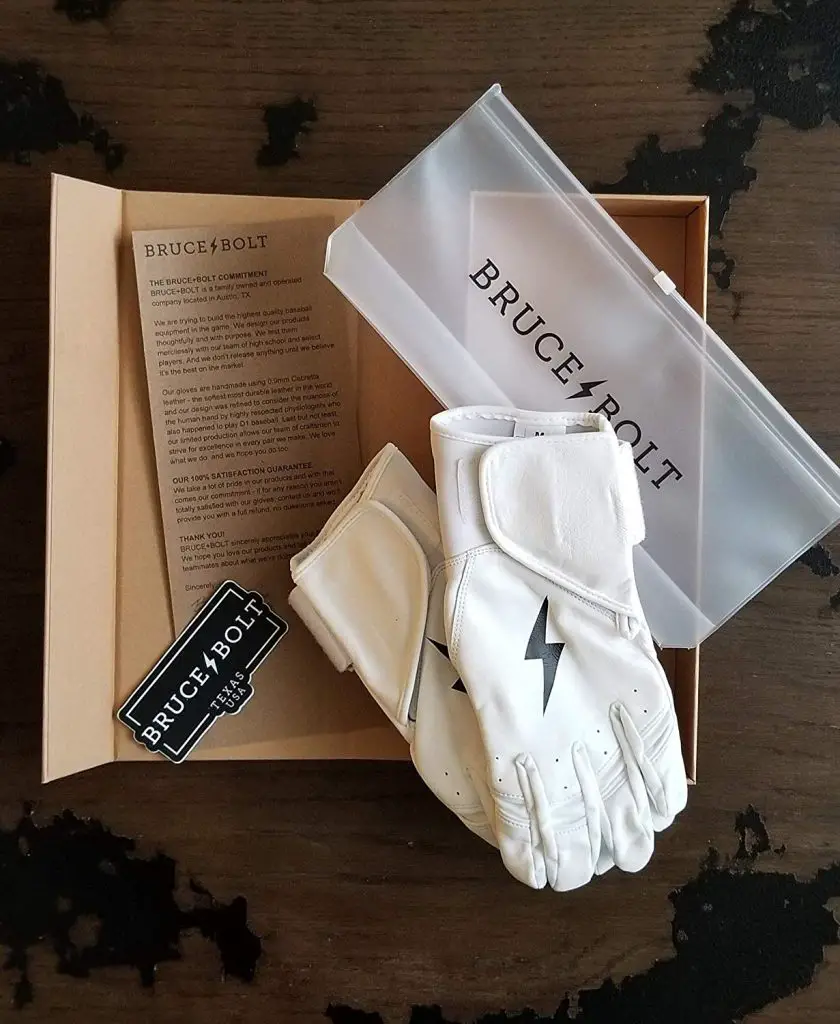 Overall, these are a long lasting, high quality, high performance pair of gloves with excellent breathability, feel and style.
Whether you're buying for yourself or as a gift, you really won't go wrong should you choose to invest in a pair of Bruce Bolt batting gloves.
Most Popular Batting Gloves
#2: Franklin Sports MLB CFX Pro Baseball Batting Gloves
These batting gloves are tried, tested and approved by hundreds of professionals in the game today as they're the official glove of the MLB.
Franklin have developed these gloves in accordance with the needs of professionals playing at the very top of their game and they definitely don't disappoint.
One of the best features of the CFX Pro is the seamless palm which adapts well to the natural shape and flex of your hand providing superb ergonomics and enhanced grip on the bat.
It also increases the lifespan of the glove as there's reduced stitching.
This model of glove offers excellent flexibility without compromising the protection provided to your hands and knuckles.
This is thanks to the tectonic fit inserts which allow the glove to bend naturally with your grip without putting tension on the shape and structure of the leather.
Like the Bruce Bolts, the CFX Pro is made with premium Cabretta leather which provides excellent breathability in warm weather conditions and a long lifespan.
They also come in a wide range of color combinations.
On the whole, these are superb batting gloves, endorsed at the sport's highest level by some of its very best professionals and if they're good enough for them, they're definitely good enough for us!
Adult & Youth Baseball Gloves
#3:Under Armour Men's & Youth Clean Up 19 Baseball Gloves
These are a great choice of glove for warm weather days as they're a combination of leather and synthetic making them highly breathable. 
The biggest benefit of these gloves is that they will allow your hands to remain dry and cool on hot days thanks to the trademarked HeatGear fabric – it's fantastic for sapping sweat and regulating heat, guaranteeing all day comfort and enhancing your grip. 
Under Armour have incorporated soft leather padding for your palms, so there's less chance of your skin rubbing and forming blisters.
This combination of leather and polyester makes the gloves lightweight without compromising feel or protection which makes them a great choice for youth players who perhaps aren't ready to transfer to heavy, all-leather gloves.
One drawback to this glove model is that they aren't necessarily designed for cold or damp weather conditions.
In fair weather, they're a good choice, but it's questionable how well they will perform on cold and rainy days.
On the whole, the Under Armour Clean Up 19 is a solid, affordable baseball batting glove with good support and excellent breathability, great for warm weather, youngsters and people with sensitive skin.
Option #2: Adult & Youth Baseball Gloves
#4: Franklin Sports MLB Pro Classic Baseball Batting Gloves – Adult and Youth Sizes
If you're after an affordable glove with a classic look and premium quality, then the Franklin Sports MLB Pro Classic ticks all the boxes. The traditional design comes in a variety of sizes and colors allowing you to have a classic look with a personalized feel making it a solid option for adults and youth players alike.
There's a few handy features incorporated into this classic look that make the glove a great choice and improve its functionality.
Firstly, there's the soft spandex wrist strap which adds extra support and maintains a solid fit during matches and practice sessions.
Then there's the features to enhance grip – the breathable hand back which allows the glove to easily extract excess heat, providing you with a solid grip at the plate.
The glove also includes quad-flex technology which reduces material bunch up between your hand and bat handle, meaning that there's going to be more friction and ultimately, a stronger grip.
Overall, this is another great product from Franklin Sports which is adaptable for adults and youth players and, whilst more modern gloves are available, it wouldn't look out of place on the hand of a professional.
Best Baseball Glove for Cold Weather
#5: Franklin Sports MLB Cold Weather Pro Batting Gloves
Performance at optimum levels in cold weather is a lot to ask of a player if they're not equipped with the right equipment to stand up to the weather.
That's why it's imperative that you have the right gloves for those extra chilly days.
The Franklin Sports Cold Weather Pro's include a neoprene backing to increase insulation to your hands allowing them to retain heat and maintain healthy circulation so you'll be free to hit homers as if it were a warm summer's day.
The one-piece high quality sheepskin leather provides both warmth and flex so grip isn't diminished by the extra thickness. 
Even if you're not up to bat, these are a great set of gloves to keep in your kit bag for those extra cold days when you're waiting for your turn out to bat. You'll be able to keep your hands warm and ready for when you're called upon.
Best Gloves for Lead-Hand Protection
As your batting ability increases, so does the intensity of the pitches you'll be receiving.
Fast and hard balls require a lot of concentration but also a solid pair of gloves to protect your hand on those swings when you don't quite make contact with the bat and your hands end up in the firing line.
If you're looking for that extra form of protection for your lead-hand, then EvoShield's Gel-to-Shell technology offers the perfect solution. The material is lightweight and has been designed to disperse the force of powerful impacts.
This is thanks to cushioning from multiple layers of their specially designed and patented protective material. 
The specially designed material is highly adaptable and will allow itself to be manipulated to the unique shape of your hand providing extra comfort and safety.
Whilst offering enhanced protection, the EvoShield gloves retain a good level of comfort and flexibility for your hands and they're not overly bulky as you might expect them to be.
In fact, they're sleek and stylish as well as being color customizabl
Best Batting Gloves on a Budget
If you're in the market for a new pair of batting gloves but also on the lookout for a bargain, these could be the gloves for you. For the price, they include a number of neat features which make them a decent buy.
Firstly, there's an anti-slip silicone finger print which offers extra grip around the bat handle.
It's worth noting however, that this design feature doesn't function when the gloves are wet, so you can rule them out on rainy days.
The gloves include padding around the palm to protect your hands from getting blistered against the bat and perforations in the finger slots allow heat to escape easily reducing the possibility of sweating and sliding.
On the whole, they're a fairly good option, but it's probably worth investing that extra money and getting a really good quality pair of gloves, or having these as a back-up pair.
Frequently Asked Questions
Do Batting Gloves Really Help?
If you want to take your batting game to the next level, then yes they really help. They provide better control over the baseball bat, confidence and a protective layer on your hands.
Do They Help With Vibration?
The short answer is yes, they help with vibration. When you hit a ball on the end of the bat, or not in the sweet spot, then your hands might experience a "stinging" feeling. A good pair can prevent the stinging feeling.
How do you measure your hand?
You are supposed to measure from the end of your palm to your fingertips. Then, follow a guided chart to see what size your hand fits into.
Find the right size by using our measurement guide. You can find that here.
How Should They Fit Your Hands?
Everyone is different on how they want them to fit. However, the best set should fit super tight and snug.
You should have breath-ability in the gloves, but you want them to be very tight. This prevents blisters and helps give you full control over your swing.
What Hand do you wear a Batting Glove on?
Well, when you are batting you should wear them on both hands. However, in the field, players typically wear one underneath their glove.