Members of the millennial generation will remember the 90s with fondness and as a decade of massive cultural importance.
Technological advancements were on the rise but the world was yet to be completely changed by increased connectivity.
The internet was still in its infancy and not as widely used or trusted as it is today. Those who remember the mass hysteria surrounding the Y2K bug saga at the end of 1999 will know what I'm talking about.
Baseball in the 1990's was dominated by two teams. The Yankees won three World Series to further cement their position as a legendary team and globally recognized brand – it was difficult to go almost anywhere in the world without seeing a Yankee hat on someone's head.
Constantly nipping at their heels were the Atlanta Braves who performed consistently well over the decade despite winning only one World Series title (they lost on a heart-breaking four occasions).
In 1994-95, baseball was rocked by a player strike which massively ate into the season resulting in a blow to the game's public image.
Despite such controversy, the 90's produced some fantastic highs and quality players which would affect the baseball card market in the long term.
Baseball cards were mass-produced in high volumes during the 90's so values of cards from this period tend not to peak too high.
However, there are a few rare gems from this period that are exceptions to the rule. Their rarity, combined with their quality (PSA 9+) gives them their value. 
Here's our rundown of the most valuable baseball cards from 1990-2000.
Recommended Reading In This Series…
George Bush (1990 Topps #USA1)
Yes, you read it right.
The former president was presented with one hundred copies of his very own baseball card from his days as captain at Yale in 1990 by Topps.
It's a novel card and extremely rare so it has a decent value.
Lower-grade cards can sell for around $1000 whilst a higher-grade edition went for $8,655 in 2018.
Chipper Jones (1991 Toppers Desert Shield RC #333)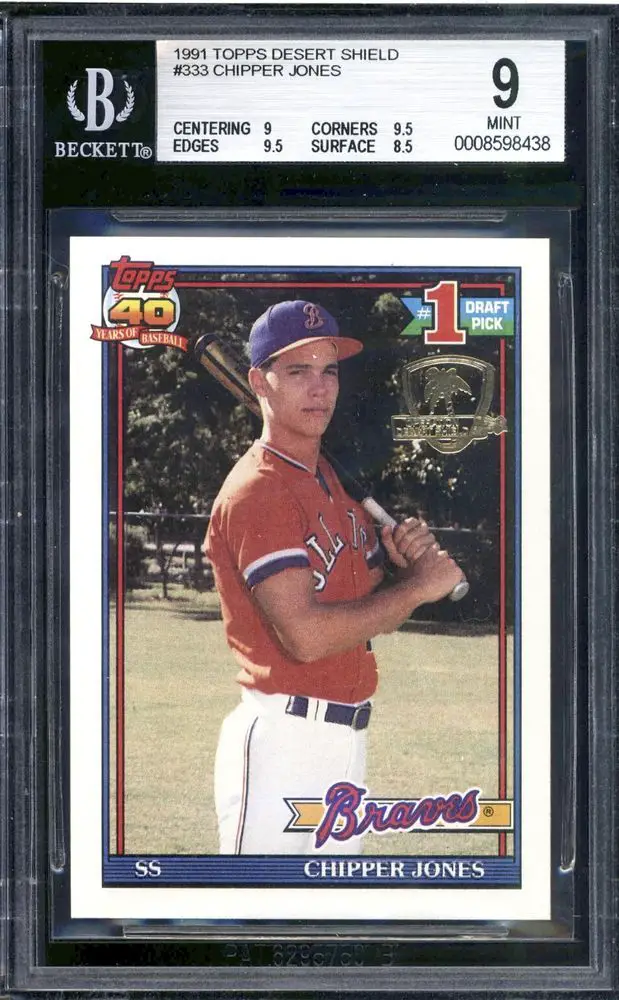 This is one such example of one of the decade's rarer cards.
This card was produced for US servicemen and women serving in Operation Desert Storm so imaginably, there aren't many out there and even less in mint condition.
Jones had a great career with the Atlanta Braves and was a key figure in their success during the 90s. In today's market, a mint 1991 Chipper Jones could be worth somewhere around the $5k mark.
Michael Jordan (1991 Upper Deck RC #SP1)
Even if you weren't born at the time, you've probably watched The Last Dance and know something about Michael Jordan's hiatus from the Chicago Bulls in the early 90's.
The GOAT took some time away from basketball to chase his lifelong dream of playing professional baseball.
Unfortunately, it didn't quite work out and it wasn't long before he was back crushing the NBA.
In the current market, Jordan cards from '91 are worth anything up to $400.
Derek Jeter (1993 SP Foil RC #279)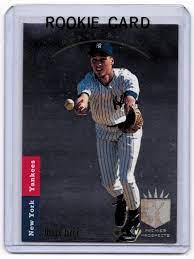 This has to be one of the most significant baseball cards of the 1990's, if not all time.
All baseball fans are familiar with the exploits of Derek Jeter – he's a legend of the game, but what makes this card so special?
Well, the 1993 card was printed with a foil layer making it incredibly delicate.
There are a few of them about but it's nearly impossible to find copies with high-quality grades.
 In 2020 a PSA 10 edition of this card sold for an astonishing $180,000.
If you've got an old box of cards lying around somewhere, it's got to be time to dust it off and take a look to see if there's a '93 Derek Jeter hidden amongst your collection.
Ken Griffey Jr. (1993 Finest Refractor #110)
This may very well be the most stylish card on the list.
Griffey Jr. is casually jogging across a leaf-green background like the legend that he is.
Currently, listings on eBay value this card around the $2000 mark but they have been known to fetch more than triple that at auction.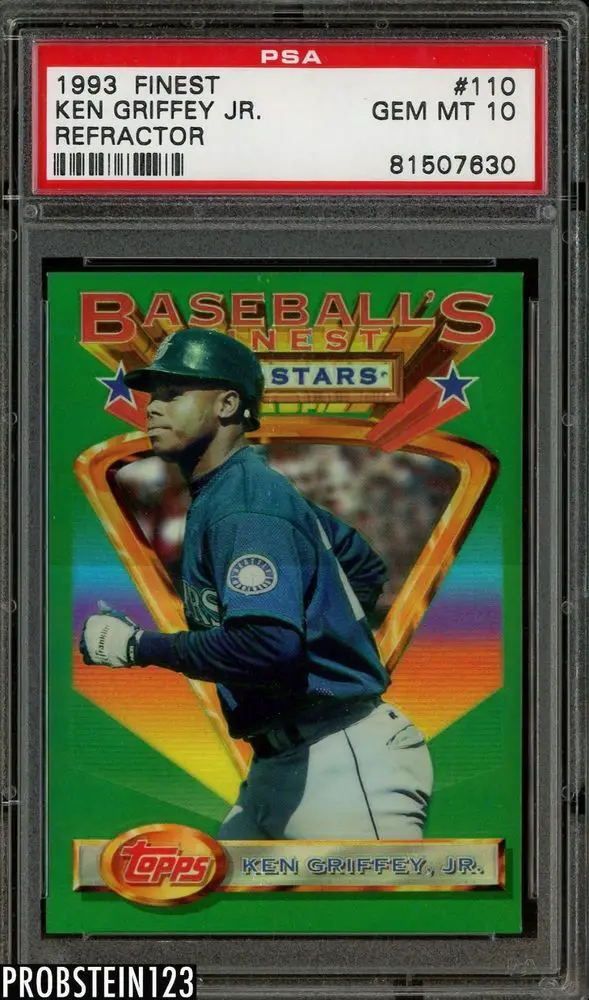 Alex Rodriguez (1994 SP Foil RC #15)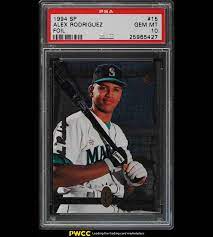 Like the '93 Derek Jeter, this is a card that was produced with a foil back and mint condition versions are hard to come by.
Some of these foil cards are so delicate they may have been damaged when they were first bought and taken out of the packaging.
You're likely to find these cards selling in a large price range depending on quality, but a pristine one might fetch up to $2000.
Ken Griffey Jr. & Mickey Mantle (1994 Upper Deck #MM1)
The value of this card is always on the up.
It's a unique card due to its style – it contains an artistic portrait of two baseball legends with autographs and is printed in landscape orientation.
It's perhaps one of the most valuable cards of the 90's and definitely, one to be kept as its value is likely to continue to soar.
Roy Halladay (1997 Bowman Chrome International Refractor #212)
Eight-time All-Star Roy Halladay was inducted into the Hall of Fame in 2019 and sadly passed away in 2017.
Recently a PSA 10 gem mint condition version of his 1997 card sold at auction for $1,591 making it one of the most valuable cards of the 90's.
Adrian Beltre (1997 Bowman Chrome International Refractor #182)
Beltre's rookie card from 1997 recently sold at auction for $3,016.
He's widely regarded as one of the best baseball players to come from the Dominican Republic and was a great all-round athlete who had a long-spanning career.
There are a lot of Adrian Beltre cards out there but this one from 97 is for sure the most valuable.
David Ortiz (1997 Fleer Ultra Platinum Medallion #P518)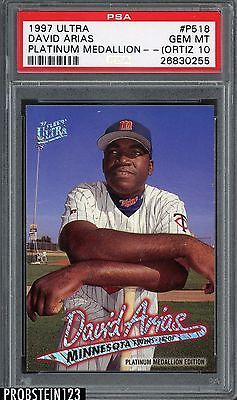 David Ortiz is one of the greatest hitters of all time and holds the Boston Red Sox record for the most home runs in one season with an impressive 54.
A PSA 10 gem mint condition version of his 1997 Fleer Ultra Platinum card sold at auction for $4,238.
Lower quality cards are currently selling at around $300.
Disclaimer: Please note none this is meant as investment advice – purely for entertainment and informational purposes only.  You should do your own due dilligence before spending your money on anything – including baseball cards. And while we're very bullish on the longterm of baseball card valuations you should never invest more than you're willing to lose on anything. Happy investing! 🙂

As an added disclaimer no copyright infringements were meant to be made in regards to the publishing of the images and cards. If there are any issue please contact me through the contact page located on this site and I can have the images removed if needed. Thanks 🙂