The Ultimate Guide To The Best Baseball Sliding Shorts on The Market
Listen, it happens to the best of us…
Sliding into second base, stealing third or making a diving play on defense can sometimes cause injury. However, if you're well protected you can prevent these bumps, bruises and soon-to-be brush burns.
We all know brush burns and showers don't go over very well.
Unfortunately, these minor ailments can affect your performance on the diamond because of the feeling of discomfort.
Having a reliable pair of sliding shorts should be a bare necessity.
Before your season starts, you should make sure you have everything you need, but mid-season purchases are sometimes needed. So, in this guide, I want to show you the very best baseball sliding shorts that protect you so you can feel confident sliding into any base.
---
Just Wanna Get To Field? The Best Baseball Sliding Shorts For 2023 Quick Summary:
---
Baseball Slider Shorts: The Reviews
To be able to give the most rounded, trusted reviews, we have done the following…
We've gathered this list from players who actually wear them. We also researched what current players (men's and youth) are saying. Lastly, we averaged out the reviews on trusted shopping sites online.
For some products on MindfuseBaseball.com, we are an Amazon Associate. This means we earn from qualifying purchases – but, this is at no extra cost to you.
Finally, finding the 'best' anything is always subjective. What one person finds is the best another might not. With that in mind we have chosen the best baseball sliding shorts based on 5 categories to give you the best all-rounded list. We've chosen sliding shorts in 
With cup compartment
With extra padding 
For catchers
For the best mobility
And lastly, a pair of slider shorts used by professional players
---
Shock Doctor Shockskin Relaxed Fit Impact Short: #1 Slider Shorts for Comfort, Durability & Safety
Impact shorts with carbon cup
Skin-friendly, limits moisture build-up
Protect vital areas very well
Designed for maximum comfort and safety
Voted #1 Hitting Net by MFB Readers
The Shock Doctor Power Compression is made with some high quality fabric, which can justify the price and help you feel comfortable out on the field. These are great for all positions, but are especially good for infielders and catchers.
What makes them so comfy is the snug four-way stretch material. The flatlock seams give you a snug fit. It can also wick the moisture away from the skin.
What about slide protection?
There's a double layer compression built in over the thighs for extra padding.
The Shock Doctor Power Compression Sliding shorts come with a built in cup for added protection and has a vented bio-shape body, which helps with comfort while keeping you cool at the same time.
Check Out The Shock Doctor Shorts At Amazon Here >>
---
Youper Elite Sliding Shorts: Good Fit With Quality & Comfort, Built-In Cup Pocket
7 colors to choose from
Cup pocket included 
Stretch fabric for improved comfort
5MM pads for added protection
Extremely Popular Sliding Shorts
These are one the most popular protective shorts on the market. 
Not only do they look great, but they come with 5MM pads to help protect skin and muscles on impact. 
They're also more stretchy than other brands, and are very breathable – making them not comfortable for long wear but also durable to wear through the season and beyond. 
Lastly, while they don't come with a cup, they do have the additional space to allow for cup placement. 
Overall, very popular shorts among baseball players which reflects in the thousands of customer reviews.
Check Out The Youper Shorts At Amazon Here >> 
---
Franklin Youth Baseball Sliding Shorts: Sliding Shorts That Protect The Body But Doesn't Break The Bank
Best for youth players
Rear & side built-in sliding pads
Made from durable polyester 
Built-in cup pocket 
Comes in 3 Youth Sizes: 22-24, 24-26 & 26-28 Inches
Listen, safety shouldn't come at the cost of breaking the bank. 
And that's we're including these incredibly popular baseball sliding shorts from Franklin Sports – one of the most trusted brands in baseball. 
The cheapest sliding shorts on our list, but still coming through with the high quality you'd expect from a brand such Franklin Sports. 
With rear and side pads for protection against scrapes & bruises, and a super flexible fit you're getting a pair of shorts that are not only built to protect but built for comfort also. 
There's also a compartment built-in for a cup if you need it. 
And if you want me to be honest? Unless you kids are playing at a high level, these are perfect sliding shorts for youth players. 
Check Out The Franklin Sports Sliding Shorts At Amazon Here >> 
---
Easton Extra Protective Sliding Shorts: Made From 90% BIODRY Polyester For Maximum Comfort
Protective shorts & cup holder in one
Available in youth and adults sizes
Designed to protect from slides and keep skin dry from moisture
Long-lasting and durable 
Thousands Of Reviews Rate These Excellent
Built with amazing protection in mind, the Easton Extra Protective Sliding Short is another top choice for all baseball players.
The Bio-Dri fabric wicks away the moisture and keeps you dry even on the hottest of day's on the ball diamond.
What about the Padding?
The material includes a 5mm of neoprene around the sliding areas of the thighs. If you are looking for the extra layer, this pair should be your choice.
The price is reasonable and not as expensive as the Shock Doctor.
The only downside is these aren't baseball sliding shorts with a cup built in. They don't hold cups all that well, so keep that in mind when you're shopping.
Check Out The Easton Sliding Shorts At Amazon Here >> 
---
Marucci Elite Padded Slider Shorts: Stylish Shorts With Options For a Range of Sizes & Designs
Quilted sponge side panels for extra protection
Great mobility & flexibility 
Built-in antimicrobial material
Built-in cup pocket space
Available in Small, Medium, Large & XX-Large
The spandex fabric makes the Marucci Elite padded slider shorts great for mobility purposes. In other words? You'll be able to move around with ease.
The padding is made with a sponge like material – providing more confidence for players jumping into slides. .
The moisture from sweat is soaked in nicely because of the anti-microbial technology.
There is an integrated cup pocket for those who are interested in that.
Check Out The Marucci Shorts At Amazon Here >> 
---
Mizuno Elite Padded Sliding Shorts: A Popular Choice Amongst Many MLB Players
Great quality sliders
Available in white and grey
Lightweight material 
Integrated cup pocket
Worn by Professionals
You'll get ELITE padding if you decide to go with these sliding shorts from mizuno.
The material is a soft touch lightweight fabric. It comes with the DryLite technology, which helps transport excess moisture away from the body.
The side panels are protected by foam padded material, giving you an extra sheet of protection when sliding. The cup is not included. However, it does have an integrated cup pocket.
---
All-Star Sliding Shorts: Great Sliding Shorts Perfectly Suited For Catchers
HIT KNIT technology 
Streamlined design for ultimate comfort
Light padding on inner thighs
Very durable
Best Suited For Catchers
Why
Simply because of the comfort mixed with protection. It's hard to find such a good combination of the two. Usually you're sacrificing one for the other.
It comes equipped with the HIT KNIT technology. The S7 provides foul ball protection from the top of the quad through the inner thigh.
And the padding?
The padding is 3MM thick and comes with a double wall side panel that provides great protection when sliding.
---
Sliding Shorts Buyers Pocket-Guide: Choosing The Best Baseball Sliding Shorts
Important things to look for when deciding what's best:
#1: Look for shorts with baseball specific fabric technologies that help keep your body protected. Look for specialized fabrics that help pull heat away from the body. This helps keep you cool and comfortable.
#2: Shorts that are made with moisture-wicking fabrics to take in sweat from the body for a dry, clean feeling. The best baseball sliding shorts will be equipped with antimicrobial fabrications. This type of fabric prevents the growth of odor-causing microbes.
#3: You'll also want to choose compression shorts for a snug, secure fit that also allows for unrestricted mobility out on the ball diamond. For youth baseball players, look for sliding shorts made with mesh fabrics.
Why?
Because it will encourage airflow for optimal ventilation. You want your little MVP in the family feeling nice so they can enjoy their game in comfort.
#4: It's also ideal to look out for flatlock stitching to eliminate bothersome rubbing. Shorts designed with protective padding in important areas of the body help prevent injury when sliding, or diving to make a play.
#5: Lastly, compression with an elastic waistband offers a super secure fit for the ultimate comfort while playing.
How We Rank & Compare Slider Shorts: Our Research Methodology & Baseball Expert Reviews
We do things a little differently at MindfuseBaseball. Here's why…
'Best' is subjective and for that reason, we try to take a mixture of products that will satisfy our main readerbase. So while there may be a product out there that could be on our 'best of' lists, we choose our products not only for the quality but also the practicality for each reader. 
Here's how we choose and rank our best reviewed products: 
Quality: So quality of the product always comes first. This means we check the materials, ask our team and collate reviews from customers all over the world. 
Price: However it's important to us that we present options that fit in everyone's budget. We've been coaching so long now, we've seen enough kids 'go without' – so we want to ensure no kids go without and therefore present budget-friendly options as well as more premium options. 
Professional Feedback: Lastly we looked to our colleagues. Between all of us at MFB we have just shy of 60 years of coaching experience. In that time we've learned what works and what doesn't and then package this up in advice to help our readers make better, more informed decisions. We use this experience to rank our products also.
Slider Shorts: FAQ's
Let's cover some frequently asked questions before we get into the full review.
What exactly are baseball sliding shorts?: Sliding shorts provide added protection between you and your pants. This is extremely important when sliding on dirt
---
Are sliders and compression shorts the same thing?: The material is very similar, however they do not serve the same purpose. Sliding shorts have padding on the sides, while compression shorts don't have any padding at all.
---
Looking for knee pads with Sliding Shorts? : A hot commodity right now, especially with middle infielders since they are on their knees a lot during a game.
These can also be considered compression padded tights. Yes, they exist and we highly recommend investing in a pair.
We'll keep them separate from this Top 5 list however,  as they are a little different to sliding shorts.
Here's a review left by a shortstop on mizuno's website on a pair of sliding shorts…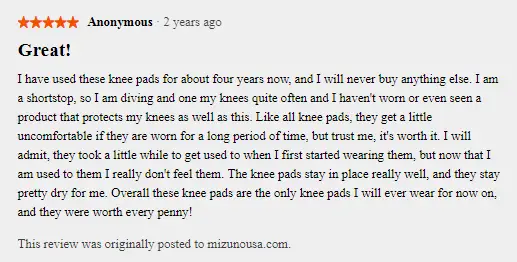 Conclusion
So with all that said it's time to round everything up.
The Shock Doctor comes in as the best value for money when looking for a durable, comfortable pair of sliding shorts that also comes with a cup. While the price might be a little on the more expensive side, they are, without  shadow of a doubt, one of the best investments you can make.
If you're looking for an additional layer of padding for extra protection we'd recommend going for the Easton Elite Extra Protective Sliding Shorts.
Mobility is a major purchasing reason for baseball players. While the marucci covers this area nicely, going with these shorts also gives a good level of protection too. They also come with an integrated pocket.
If you're looking for a more 'position specific' pair of sliding shorts for catchers, the All Star 7 Padded Shorts have you covered right from the top of quads right through to the inner thigh.
And lastly, if you're one to save time and would rather just go with what the pros use – mizuno elite padded sliding shorts will have you covered.
As final parting words, you should go with something that you'll feel comfortable with and will protect you. Those two things are by far the most important areas to focus on.
All the best,
MF Baseball Team