Our guide is so focused on helping you find the best baseball gloves and brands for your 2020 season.
This buying guide is for the ELITE baseball players and we have expert reviews of the top mitts to improve your performance on the ball diamond. It's our mission to put the glove buying process on a "Tee" for you so you can knock it out of the park.
First of all, baseball gloves are very specific to the position you play. That's why we'll break down the top gloves and brands by position. You'll be able to use the Table of Contents to jump to each section!
Second, we bring knowledge from a former professional player and provide extensive research to you, wherever you are! The importance of a great baseball glove cannot be over looked. Mind Fuse Baseball will bring that importance to you.
So, pull your socks up, lace up your cleats and let's get ready to find the right glove that suits your needs and takes your ball game to the next level!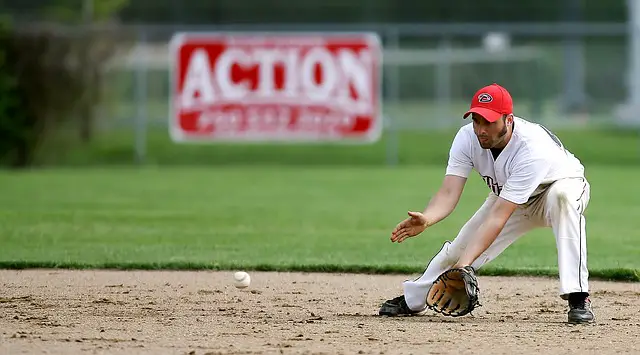 Mind Fuse Baseball has put together the ultimate buying guide for players, parents and family members looking for that special glove.
Whether you're buying a glove for yourself, or if you're a parent searching for a glove for your kid, we have your back!
Gain an Unstoppable advantage in the field and gear up for the real reason to choose a glove that will change your game!
Best Gloves for Baseball Players (All Positions)
With so many options, it can be tough to figure out which baseball glove is best for you. There is no one size fits all solution to baseball gloves.
Here's a sneak peak of our top 21 list. Remember though, you're going to want to check out our full review in the next section of our buying guide. It will help you decide what glove is best for you and the position you play.
You know that expression, "fits like a glove?" Well, that's how you want to feel when you try on that brand new recommended baseball glove.
Nothing beats the process of breaking in a brand new glove. The smell of new leather, the feel, comfort, durability and weight are all things that I will never forget, and either will you.
So enjoy the process of buying and breaking in your new baseball glove!
Baseball Glove Ranking Chart
Finding the top baseball gloves and brands for your 2020 season takes some research and a little exploration.
We use a very specific criteria in selecting our top 20. We also take the position the glove is for into consideration and successfully labeled those for you.
In addition, Mind Fuse Baseball knows that not everyone will agree with our list. However, if it gets you started in the right direction and you feel good about your purchase, then this baseball glove buying guide serves its purpose!
Are you ready for a break down of the best baseball gloves 2020 has to offer? This is the ultimate buying guide.
We all know having the right glove can make the difference between fielding the ground ball or booting it.
Whether you are looking to reach the next level or just playing in slow pitch games on the weekends, check out our recommendations on how to find the right one for you.
Do You Need The Best Baseball Glove?
The moment you've all been waiting for. Here we go!
Now, we'll start with outfielders gloves, then work our way to middle infielders gloves, first and third base gloves, catchers mitts and finally gloves for pitchers. Are you ready?
What Are The Best Overall Baseball Gloves?
This season is your year as an outfielder. Now let's take a look at the top gloves for your position. This glove review section will cover mitts for all three positions in the outfield – Center Field, Right Field and Left Field!
1. Rawlings Pro Preferred PROSMT27 Mike Trout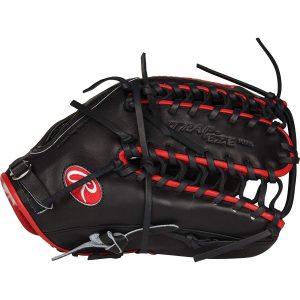 If Mike Trout uses it, shouldn't you? Ok, that may be a little ridiculous, but here's why this glove is dope.
The Review Breakdown: First off, Rawlings glove brands are top notch, high quality mitts. You really can't go wrong with them.
Second, the Mike Trout Rawlings PROSMT27 looks unreal. The five star reviews keep pouring in because players LOVE this glove.
It's the look and feel that make the big difference. Performance? Unmatched. It's hard to miss any fly ball or a line drive with this glove.
This is our #1 choice for outfielders gloves and brands for 2020. Act fast before they all go off the shelf.
2. Wilson A2000 KP92 12.5″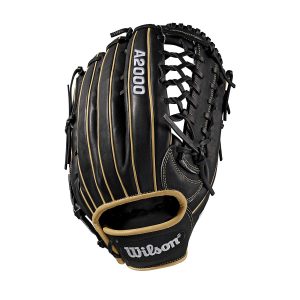 The Review Breakdown: Coming in at Number 2 is the Wilson A2000 KP92. So many professional players would agree that Wilson is one of the best baseball gloves brands in 2020.
Read our full Wilson A2000 outfield glove review. Mind Fuse Baseball breaks it down for anyone who is thinking of buying.
This glove is engineered with leather that is intended to be game day ready, meaning little to no break in time is required.
The low profile heel makes the mitt more flexible and forgiving. This mitt has a Pro laced T-Web and the pattern was developed by Kirby Puckett!
There is Dri-Lex wrist lining to keep your hand cool and most importantly, DRY! The glove gives you the ability to make any catch that comes your way.
3. 
Rawlings Gold Glove 12.75″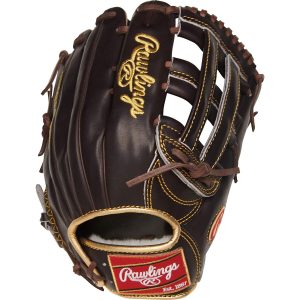 The Review Breakdown: Take your defense to the next level with this Rawlings Gold Glove 12.75 inches. Performance based, Opti-Core Technology, sleek look and outstanding feel.
This glove is a 20% factory break in, which is an added bonus. It is made with immaculate European leather.
Because of the larger size of the web (12.75″), this Rawlings Gold Glove is designed for the more experienced outfielder.
For those of you who really value a good shape with the pocket of the glove, this pocket can form into the real deal. As many really good baseball outfielders know, a good pocket makes a HUGE difference.
4.
Wilson A2K Outfield 12.75″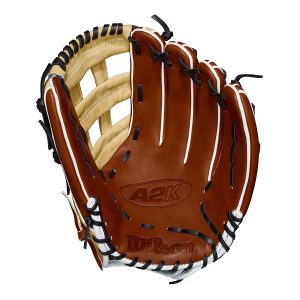 Let's Break it Down: The Wilson A2K Outfielders glove is designed to be light and playable right off the bat.
Many of the best MLB outfielders favor this glove for its amazing length and deep pocket. The dual post web keeps the pocket in outstanding shape after its broken in.
The leather of this glove will conform to your hand and you will feel like it was made for you. This is a premier glove in the eyes of top prospects and many professional players around the world.
5.
Mizuno Pro Baseball Glove Series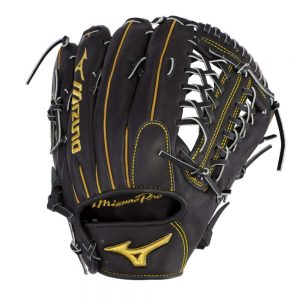 Our Take: The Mizuno GMP2BK-700DS Pro Outfield 12.75″ baseball glove!
We all know that this thing looks like the real deal. One of the best brands in baseball, Mizuno, has really knocked this one out of the park!
Trusted by thousands, if not millions of professional athletes around the world, this glove is made with the most worthy leather in today's market.  This helps the pocket form much better and last a lot longer.
What can you expect if you buy this glove? Simply put, you will most definitely play solid defense and have the confidence you're after.
Best Baseball Gloves for Infielders
If you play shortstop, second base, third base or first base you belong to the infielder's glove crew. You should have a very specific, infielder glove.
Typically you want your infielders glove on the smaller size so you can pick ground balls off the ground.
Middle Infield: Second Base and Short Stop Gloves
6. Nokona Bloodline P6 Baseball Glove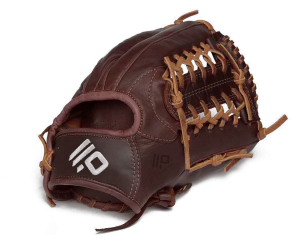 Not only does this glove look good, it is designed for high performance.
Our Infield Glove Review Breakdown: The Nokona Bloodline P6 is a lightweight and very well put together glove. Crafted from top grain Stampede Steerhide and Kangaroo leathers, the quality is unparalleled.
This glove is recommended for the game's most skilled players who are looking to take their game to the next level. The Bloodline P6 requires very little to break in, making it a ready to play mitt.
We think that Nokona is one of the top baseball glove brands 2020, thanks to their dedication to high quality gloves that are game ready. So many players are playing with these gloves, especially in big time college ball.
7. Rawlings Heart of the Hide Dual Core 11 1/2″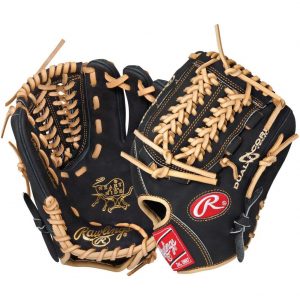 Our Infield Glove Review Breakdown: The Heart of the Hide has a deep, wide pocket making it perfect for outfielders. The steerhide leather is softened and specially tanned before the glove is constructed which reduces the break in time.
Break in time for this glove is 60% broken in by the factory, which leaves the player with about 40% of break in to do.
Why is break in percentage important? Well, because back in my day you had to put the glove in the oven just to slightly break it in. Today, these gloves are almost game ready. All it takes is a few sessions of catch.
The inside of this glove is lined with deer-tanned cowhide which adds superior comfort and protection on the inside of the glove.
8. Rawlings PROS205-2BCWT Pro Preferred Wing Tip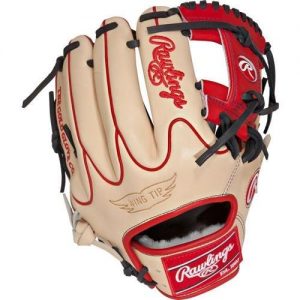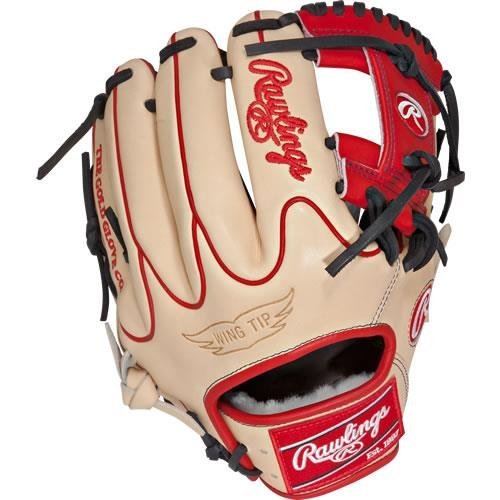 Our Infield Glove Review Breakdown: One of the most trusted brands in all of baseball, this glove is ideal for an elite infield player.
The PROS205 features kipskin leather which is lighter and more supple than traditional steerhide. You are getting a hidden gem with this glove.
With exceptional durability and a custom break in, if you are a serious infielder looking for the perfect glove, this is an excellent option.
Why is this an infielders glove? Simply stated, it is small enough for elite ball handling. Remember, turning two and getting the ball out of your glove after a ground ball should be your number one priority! This glove gives you the opportunity to get that done.
There are difference colors to choose from, making this infielders glove a superb option for those who want a sharp look and feel.
High Performance 3rd Base Gloves
9.
Mizuno Classic Pro Soft GCP66S Baseball Infielder Glove – 11.5″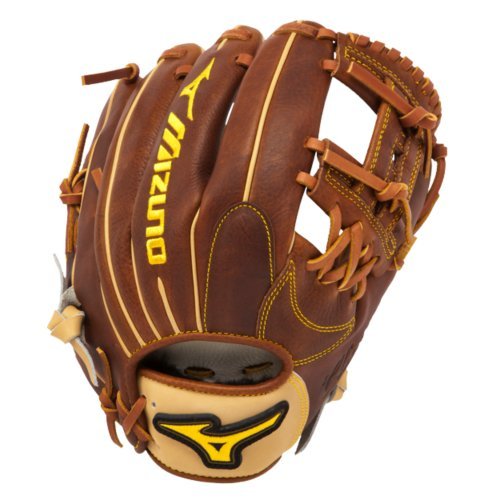 Our Take: If you are in the market for a low cost yet quality mitt, this is a great option. The Mizuno GCP6SS offers quality and affordability.
This glove will help any third baseman make defensive plays at the hot corner position. It is equipped with an ultra soft palm built for durability and feel.
How fast can you get the ball from the glove to your hand?
First off, a lot of that depends on your skill level. However, this glove gives you a better chance of having quicker hands because of the soft palm.
Whether you're planning to go pro or trying out for your high school team, this infielder mitt is game ready right off the shelf, so you can get right to it.
10.
Nokona X2-1150M X2 Elite 11.5 inch Baseball Glove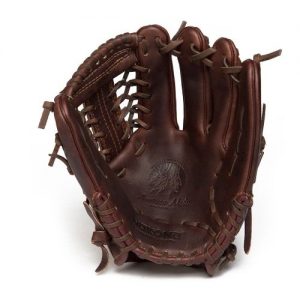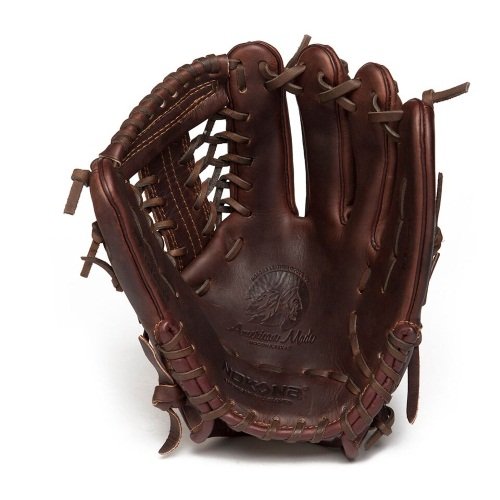 Our Infield Glove Review Breakdown: This is truly an elite infielder glove. The Nokona baseball brand is hot right now, and there's plenty of reasons why.
Stampede Steerhide and Kangaroo leather, this glove is extra position specific. Make every play on defense from here on out. Be the human vacuum you're capable of.
Fielding ground balls will never be easier, especially at the hot corner (third base). The Nokona X2 Elite is break-in ready. Take your game to the next level.
High Performance First Base Gloves
11. Mizuno GMP300BK Pro First Base Mitt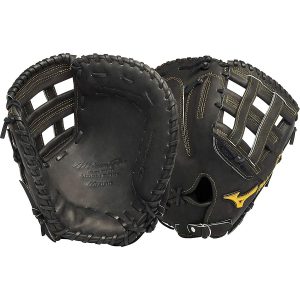 The Breakdown: For starters, Mizuno is a trusted brand among professional players. The GMP300BK Pro first base glove is designed to catch anything that comes your way.
As a first baseman, you're going to need to scoop bad throws that hit the dirt, catch high throws, high velocity balls, and finness-type situational throws.
If you're trying to take your game to the next level, you need a first base glove that will help make these plays. This Mizuno baseball glove brand for 2020 is the way to go.
12. Wilson A2K 2800 12″ Pro Stock First Base Mitt
Our take: Wilson uses only high quality Reserve leather in their Pro Stock Series and their first basement's mitt has excellent comfort and control.
Extra protection and double palm construction which help maintain the form of the glove once you break it in.
Handle any throw that comes your way with the Wilson A2K 2800. According to Wilson, this glove breaks in quicker and lasts longer.
13.
Nokona X2 Elite Series 13 Inch X2-N70 Baseball First Base Mitt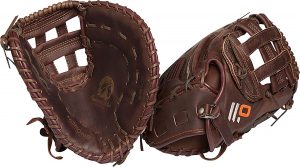 What We Think: Amazing style points with this Nokona first base mitt!
One of the hottest baseball glove brands in 2020 – Nokona. They create some of the best position specific mitts in the game.
Stampede Steerhide and Kangaroo leather, this light weight (13 inch 730g) will elevate your first base skills to new heights.
Never miss a scoop, catch the high throws and be the go-to first baseman your team needs.
The Absolute Best Catchers Gloves On The Market
The catchers mitt! So important to have the right glove as a catcher. It can be argued that the catcher is the most important position on the field.
Not only do you need to catch heaters from the pitcher, you also need to stop the balls that are thrown in the dirt. Having the right equipment is a tremendous advantage, and your team and coaches will be thanking you for it.
Let's dive in and break down the best catchers gloves for this upcoming season.
14. All-Star Pro Elite CM3000SBT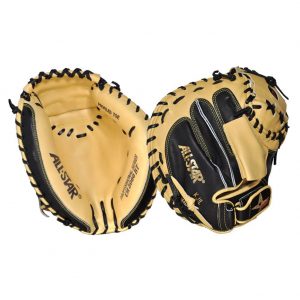 Our Review: The All-Star Pro Elite is the ultimate catchers' mitt. In fact, this is the preferred mitt of many pro ballers.
This glove takes a bit of time to break in, but once you do you will be glad you chose it. With extreme durability and a sleek design, this is one of the best catchers mitt for high school and college baseball players.
If your old glove is getting in the way of you becoming a great catcher, then stop and think about investing in the best catchers glove today. No more passed balls, no more free bases and no more flimsy leather.
15.
Nokona Bloodline Pro Series Baseball Catchers Mitt: P2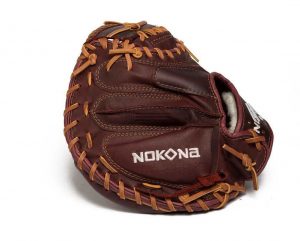 Our Catchers Glove Review Breakdown: What makes the Nokona Bloodline Catchers mitt one of the best for 2020? For starters, it is made with the absolute best leather on the market.
In addition to that, the sharp look and smooth feel provides any catcher the ability to make stops and keep their team in the game.
Finding the best catchers gloves for 2020 isn't easy, that's for sure. However, this is a hidden gem. In fact, they are becoming more popular every day.
Don't over look it. There are limited numbers of these catchers mitts. The only way it won't work for you is if you don't act now.
16.
All-Star Pro-Elite Series 33.5″ Baseball Catcher's Mitt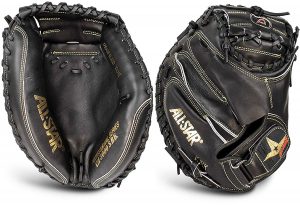 Our Catchers Glove Review Breakdown: Yes, we already included an All Star catchers glove. However, this is one of the best catchers mitt for college baseball and high school baseball.
First of all, the leather is immaculate! With this catchers glove you'll get an exclusive Japanese tanned steer hide. Having this type of leather allows for fast break-in and extended life!
Second, the POP in this mitt is unbelievable! We all know pitchers love to hear that sound.
To add further, the All Star Pro Elite Series is one of the best catchers glove in 2020 because of its soft leather which will provide comfort and confidence.
Do you have an old catchers glove and need a new one?
If you answered yes, don't pass this opportunity by. There's over 100 positive reviews on this mitt. Take action now before it's too late.
17. Wilson A2000 CM33 33″ Catcher's Baseball Mitt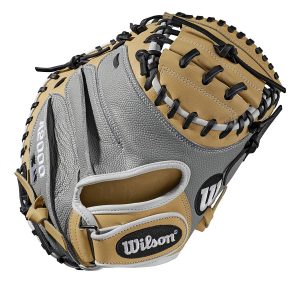 The Review: This will be our last "best of the best" catchers mitts reviews for your 2020 season. That is, unless, we create a top 21 catchers gloves only buying review guide. If that's something you would want, just add that in the comments below!
The A2000 CM33 looks legit. How about the reviews? Unreal how many catchers love this glove.
Maybe you're looking for an upgrade or a replacement. Either way, you can't go wrong with this catcher's glove for your high school or college baseball season.
Top Pitchers Gloves for 2020
Looking for the best pitchers gloves on the market? Mind Fuse Baseball is here to help you narrow down your options (there are a lot of them out there).
Let's dive into the best gloves for pitchers for this season!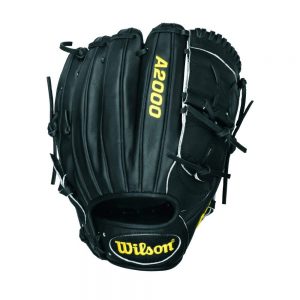 Our Pitchers Glove Review Breakdown: Coming in first place, we introduce you to… The Wilson A2000 CK22GM!
First of all, this is the game model for MLB pitcher Clayton Kershaw. Designed for an elite pitcher, the closed web design hides the ball's stitching.
Second, this pitchers glove is composed of Wilson's high end Pro Stock Leather which is the highest quality cut of leather that Wilson offers.
PLEASE, don't listen to people who say "you're just a pitcher, you don't need a nice glove." That isn't true. You DO need top tier glove.
The last thing you want is discomfort on the mound when you're trying to find the strike zone.
Want to hide your grip on the ball? Then take action on we deemed the best baseball gloves for pitchers in 2020.
19. Wilson Showtime Series A800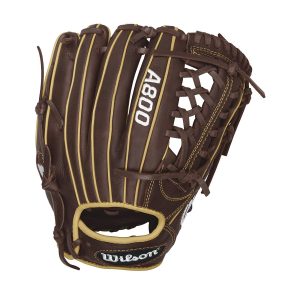 Our Review: In second place, a very affordable and extremely comfortable Wilson Showtime Series A800. While this isn't a 2020 model, it will go down in history as one of the best pitchers gloves.
Do you want to know why?
For starters, the Showtime A800 is perfect for players looking for comfort on the mound. This glove was designed with a pitcher in mind. The last thing you want is to be thinking about your hand hurting when gripping the four seam fast ball.
Made from high quality and durable leather, Wilson offers this mitt at an affordable price while still offering great quality to those who are just getting their feet wet with baseball.
Wilson is one of the top baseball glove brands in 2020. We obviously featured a lot of them in our buying guide. There's a reason for it. Take action and be comfortable out there!
20.
Rawlings Gamer Series Baseball Glove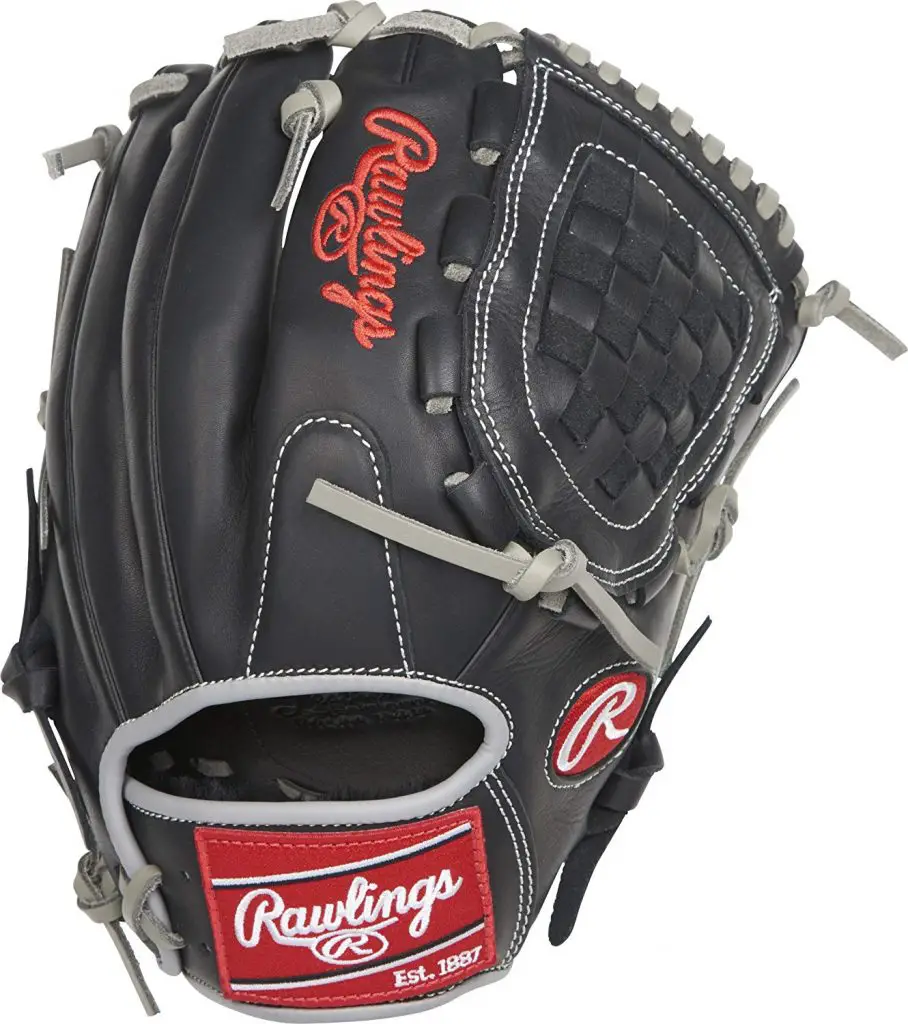 Our Take: This is one of the best pitchers glove on the market. It has a Basket web for you to hide the ball, if that's your advantage!
Why do we love this glove?
To begin, the name of this glove is the Gamer Series! That has to be good karma!
This Rawlings Brand mitt features little to no break in time and is crafted from high quality extra padded protection in the palm. There's a nice comfort to this glove and that will give you another advantage on the mound.
21.
Mizuno MVP Prime SE 11.75-Inch Baseball Fielder's Mitt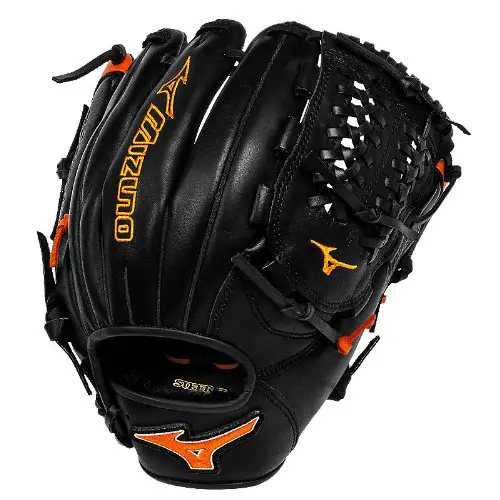 Our Opinion: First of all, this glove is SUPER HOT right now! So many pitchers are buying this glove for the reasons we'll explain in a bit.
What we love: the MVP Prime Series features Mizuno's heel flex technology which provides a more comfortable and flexible heel.
This is a great glove for players of all ages who are looking to step their game up. This glove also adds a little extra swag to your game with five different color options to choose from.
Our Best Baseball Gloves Reviews Guide
If you are a serious ball player than you know that there is a big difference in gloves and not every glove suits every hand. There are many factors that will determine what the best glove for you is, including the position you play.
Check out our YouTube video on the top baseball gloves, if you prefer to watch over video of course. Just visit the link below:
http://bit.ly/topbaseballgloves
Not all ball gloves are created equal. Every baseball glove is going to vary in terms of; brand, quality, position, price, etc.
We break down some of the key features and qualities to look for in a great baseball glove for your upcoming season:
Baseball Glove Sizes
The size of the baseball glove that you choose will depend on the position that you play. For example, if you are an infielder, your priority is to be able to cleanly field the ball and make a rapid transfer of the ball from the glove to your throwing hand.
In this case, a smaller glove with a shallower pocket will be your best choice. A smaller glove makes getting the ball out and into your throwing hand quicker and easier.
Many outfielders choose a larger glove with a larger pocket which gives a bigger net for hauling in balls.
Webbing in Baseball Gloves
While different baseball glove brands have crafted many different names for their signature webbing, we can break it down into two basic categories; open or closed.
Open webbed gloves have an open pattern in the leather glove that allows the player to be able to see through it. As a result, you will be able to see the ball much better in the heat of the moment.
Above all, open webbing is ideal for catching fly balls because you can track the ball through the glove. This type of webbing is also helpful when it comes to scooping balls off the dirt because you don't end up with a glove full of dirt.
Closed webbing does not offer any holes in the mitt. Many pitchers choose closed webbed gloves because it allows them to better hide their grips.
Backing
Similar to webbing, backing can be either open or closed. The backing of the glove is the part where the back of your hand rests.
There is no real difference in performance when it comes to the backing on gloves, it is more or less a personal preference.
An open back baseball glove will provide a little more flexibility in the wrist, while a closed back glove will provide more stability. Additionally, an open back will also provide more ventilation which can come in handy during the hot baseball season.
Types of Leather
Another component to consider when looking for the best baseball glove brands 2020 is the material in which it is crafted. The grade of the leather used to make a mitt plays a huge role in the overall quality and performance of the glove.
As a general rule of thumb, the stiffer the leather, the higher quality it is. You may be thinking that you don't want a stiff glove, but keep in mind that the mitt should start out stiff and slowly mold to your hand. This is where the term "fits like a glove" is really relevant.
Choosing Affordable (Not Cheap) Prices
Lastly, you will want to consider the price of the glove. While you can get a pretty decent glove for an affordable price, keep in mind that you get what you pay for. A cheap, low quality glove will likely produce low quality results.
Also keep in mind that once you find the best baseball glove for you 2020 season, you should be able to use that glove for many years to come, making the investment in a high quality glove worth it.
Why it's Important to Have The Best Glove For Your Position
While it may be easy to just grab any old glove off the shelf or online and assume it'll work, if you are serious ball player, it is extremely important for your performance that you have the best baseball gloves 2020 in your equipment bag. We believe we have shown you exactly why it's important to have a great glove that fits your position. Playing defense is a must and should be treated as a high priority.
First off, your glove should be everything to you. Let's be honest, having the right baseball glove can make all the difference in the world when fielding ground balls or catching fly balls.
Second, the day you find the right glove will be the best day of your life. I mean that because it happened to me before. Find the mitt that serves you and you'll be making play after play.
Conclusion on the Top Gloves we Chose
Well, we sincerely hope you enjoyed this very long list. It's now time to take action. The knowledge and information has been organized for you to take your game to the next level.
If you've been seriously considering buying a new glove for yourself, or if you're a parent looking to buy one for your kid – pull the trigger and take ACTION so you can start breaking it in NOW.
It's also important to note that some of these mitts will be sold out and you'll miss out on the opportunity to own one that you want. Remember, this list was made by researching all the popular items that REAL players like.
Our experts also want you to find the best baseball gloves and brands for your 2020 season. The only way you won't succeed is by not taking action.