Let's face it, baseball is a technical sport.
It requires a unique blend of fundamental skills and stacks of dedication to honing them.
Luckily for us as baseball players, we're able to train our skills on the go, anywhere and at any time given that we have the right equipment.
If you're in the market for a practice tool to mix up your training drills, then finding the best baseball rebounder may be one of the smartest investments for you, your family or the team you coach.
They're a great source of fun, can be used in a variety of ways and, most importantly, a good rebounder will actively improve your rudimentary baseball skills.
Bounce-back nets have come a long way in the last ten years or so – the technology behind them, as well as the materials being used in their construction, is constantly evolving.
Today, the rebounder market is rich, filled with excellent, powerful pitchbacks from a number of companies that are being used not only by amateurs but also by major colleges and professional ball clubs nationwide.
---
Just Wanna Play Ball? The Best Baseball Rebounders For 2023 Quick Summary:
---
Best Baseball Rebounders – Full Baseball Expert Analysis
Keep in mind, for some products on site, we are an Amazon Associate. This basically means we get a small commission if you go to Amazon.com and purchase one of the products. This does NOT influence our list and it comes at no extra cost to you.
Finally: Let's all be on the same page here with pitchback/rebounder nets – the sole purpose of these nets is to improve your fundamentals, warm up for a game and be able to practice on your own.
They have become almost fundamental to baseball practice – so let's find you something that suits your budget, your objectives and goals as we dig into the best rebounders on the market and why…
Each rebounder that we've reviewed are being used across the board at all levels from college leagues right up to the MLS and we're confident that they'll be great for you.
Rukket Pitch Back Rebounder PRO – Best Overall for Durability, Quality & Skill Development
Immensely durable & sturdy suitable for all ages and abilities
Adjustable angles allow you to work pop flies, grounders and line drives
Comes with a pitching target to help improve throwing accuracy
Folds up, easily put in the back of the truck to take anywhere and practice
Includes: 3 weighted baseballs to help improve pitching
Straight off the bat, let us tell you that it's incredibly difficult to beat the Rukket Pitchback when it comes to quality and durability…
Not only is it a ridiculously sturdy and adjustable rebounder, but it's also been significantly improved compared to the original model.
With an almost perfect Amazon rating & multiple raving reviews in baseball forums around the net, it's easy to see why the Rukket Rebounder is the pitchback of choice for many baseball players, coaches & parents up and down the country. 
It's been constructed from top-of-the-range materials including industrial strength bungees to increase bounce-back power and the handy paracord pull and plunger bolt system allows you to easily and safely adjust the rebounder angle to tailor your training. 
With a 1.25-inch powered coating metal frame, you'll have no issue in keeping the rebounder protected as you transport it around from location to location. It'll withstand damages and last longer than previous rebounders you may have purchased. 
On top of the 'bump prevention,' it'll also better protect against corrosion and stand up to all weather conditions – no matter when you want to practice. 
There's nothing worse than a rebounder that moves 'off course' or falls over everything time you throw a ball at it. With rubber feet to keep it firmly in place as you're using it, you'll not only be able to throw ball after ball without having to reset the position but if you aim to use it indoors you won't have to worry about scratching floors either. 
Lastly on the durability & quality section, if you've been involved with sports equipment for any length of time you'll know these things tend to put your fingers in the firing line. So you'll find the Paracord pull & plunge system an unlikely hero in protecting your fingers where everything is neatly placed, easy to adjust, and in full-eye view.
Image From Rukket.com: The most durable baseball rebounder on the market for a reason
Adjust The Angles For Pop Flies, Grounders and Line Drives
By adding angled edges at the top and bottom of the rebounder frame, Rukket has added a feature designed to improve throwing accuracy by increasing the pitcher's focus.
But that's not all because, with an adjustable back stand, you'll be able to change the angle of the whole rebounder which helps you in mimicking & simulating real game scenarios and changing up your training session and skill development with multi-angle throws and ball flights. 
At 6.3ft x 4ft, it's also got a large surface area perfect for throwing both center and off-center balls. In addition, you'll be able to train and prepare for pop flies, grounders and line drives without any additional preparation. 
Overall between the curved design, adjustable stand & large surface area, the new Rukket PRO model really is the best alternative for a training partner that might be less reliable 🙂
Improves Accuracy With Changeable Strike Zone Pitching Target
Intricate details like accuracy can be the difference between winning or failing – throwing is no different. 
While there are multiple locations on the net to aim for, the addition of an adjustable pitching target helps you gain that improved visual cue to improve your throwing accuracy. 
This is especially useful for younger players and adds a layer of control for youth players enabling them to take more responsibility to work on the weaker parts of their game. (However, please note that we *don't* recommend any child to operate the main functions of the net for safety reasons). 
Image from Rukket.com: A 9 box target zone and weighted balls help you take your baseball training to the next level 
Conveniently Folds For Easy Portablity & Storage 
While it's not the most portable baseball rebounder of our list, that doesn't mean it's not completely immovable either. 
So it doesn't come with a bag or anything to pack into, and it is a pretty large piece of equipment. 
But that aside, after the initial setup and assembly of each part, if you want to take it to another location, you'll only have to fold it up which isn't too much of a hassle. 
Then all you got to do is throw it in the truck or car, and 'unfold' it at your new location. 
Similarly, if you're looking to store it, the foldable nature allows it to fit snugly in and amongst your other equipment without taking up too much space. 
Value for Money, Improved Bundle Offer & Discounts
It's also worth noting that Rukket has also released a bundle option for this rebounder which includes two weighted balls, bases and a 9-section pitching target.
While weighted baseballs have their believers & non-believers they have been proven to increase throwing velocity, arm strength and overall power & strength. 
Each ball comes at a different weight (6oz, 10oz, 12oz) to help you progress your throwing in a linear way reducing the risk of injury. 
However we wouldn't recommend this sort of training for normal youth baseball players, but the addition of 3 weight balls is definitely a great perk for adult players looking to take their game to the next level.
It's slightly pricier than its competitors but you really are getting value money here and is a great option to help you or your little ones to improve their game.
All in all, this rebounder is as good as it gets and if you're looking for quality at a respectable price, look no further than the Rukket Pitchback Baseball Rebounder PRO.
#1 Rebounder: Buy The Rukket Pro at Amazon.com
---
Franklin Sports Pitch Back Baseball Rebounder – Affordable Rebounder Best Suited for Younger Players
Weather resistant so you can train in all conditions
Transport & store with confidence
Unique 'full' curved design & adjustable back stand for increased challenge and ball variety like pop flies & grounders
Best for younger players and youth baseball training  
Includes: Pitching strike zone target
The Franklin Sports Rebounder is a perfect choice if you want to save some money – it's approximately half the price of similar products on the market. 
But don't let the lower price fool you – this rebounder is built to last. Its all-weather net and frame are designed to withstand even the harshest conditions, so you can use it all year round without worrying about it warping or tearing. 
Plus, the net and frame will stay in good condition even when it's stored in a damp or cold location, like a garage or outdoor lockup. 
The only downside is that the rebounder doesn't fold up, so you may want to keep it wrapped up in a protective cover when you're not using it. Overall, the Franklin Rebounder is an excellent choice for coaches and players who want a durable and affordable rebounder.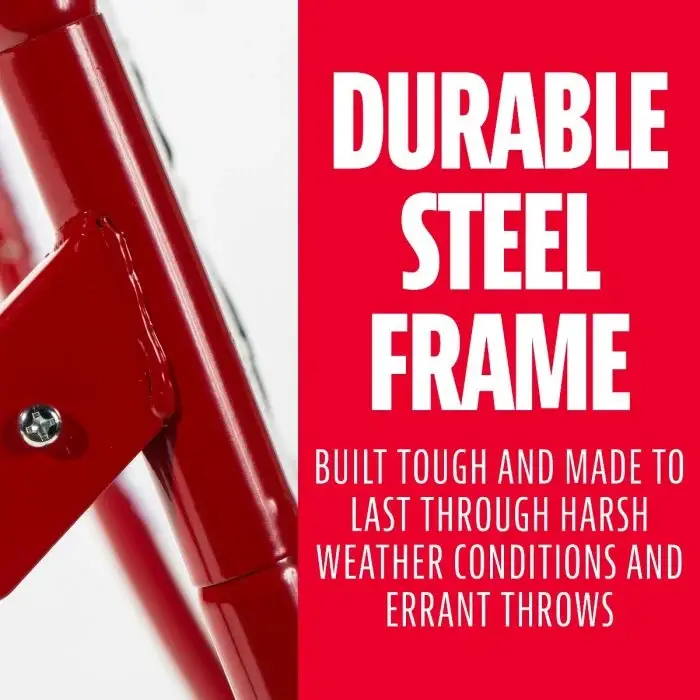 Easy (enough) To Transport and Store
While it doesn't fold up completely, it's pretty easy to transport and store. 
The legs fold up so if you've got the right transportation you shouldn't have much of an issue. And storing inside with a protective cover should be straightforward too. 
While sturdy, the rebounder is still easy to move and set up, allowing coaches and players to quickly and easily use it whenever they have the time and space to practice. 
This can be particularly beneficial for teams & players that have limited access to a dedicated training facility, as they can use the rebounder to practice in a variety of locations, such as a backyard, park, or gym.
This makes the Franklin Sports Rebounder a valuable tool for coaches and players who want to be able to practice their hitting, fielding, and throwing skills in different locations and under a variety of conditions with relative ease.
Unique 'Full-Curved' Design For Increased Challenge & Ball Variety
The curved design on the Franklin rebounder can help improve your (or your kids) fielding skills by providing a more realistic simulation of the movement and trajectory of a batted ball. 
This is especially important when game-time is limited and lack of training partners becomes an issue. 
With a curved design, it can simulate the way a ball may bounce off an in-game obstacle better (the ground or a players glove) when a player is fielding it. 
Over time, repetition after repetition – this can drastically improve your reactions to meeting the ball, catching it and then consequently making accurate throws to a target. 
It can also help the player practice catching pop ups, as it can simulate the unpredictable movement of a ball in the air. 
On top of all that, it's also adjustable. 
With different angles to catch and field balls at, you'll be looking at an all-round development to your fielding skills. 
Overall, the curved design with the adjustable angles can help you become more comfortable and confident when fielding balls in a game-like situation, which will improve your overall fielding ability.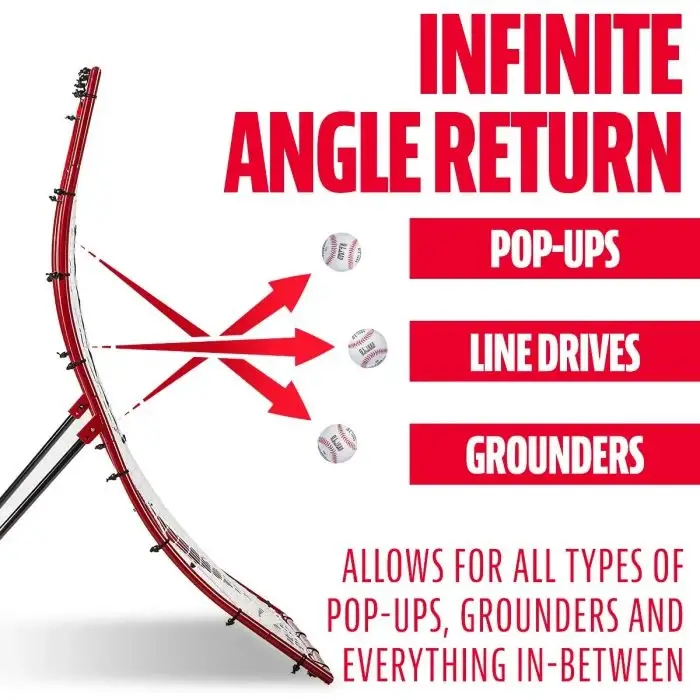 Best Suited For Youth Player and Kids
If you're an adult looking for a new baseball rebounder we'd definitely recommend going with the Rukket above. 
But if you're looking for something that doesn't cost the earth and is perfectly suitable for kids to practice with – we'd recommend the Franklin Sports Rebounder. 
The throws and use from adult players might be a little too much for Franklin to endure – especially over the longer term. Something that the Rukket could handle easily, the Franklin Sports Rebounder might have a harder time doing. 
The Franklin is better suited for youth players because it's more of a convenient way for younger players to practice their fielding skills on their own. (although we wouldn't recommend letting kids operate the mechanical setup/movements) 
Youth players often have limited access to live pitching or batting practice, so using the Franklin can allow them to practice catching and fielding balls without needing a pitcher or hitter. 
This can be especially useful for players who want to work on their skills outside of team practices. 
The net itself however, is as strong as they come, so if you want to use it for bigger, stronger and more able players, we'd recommend sticking it up against the wall to keep it in place and stop it moving. 
Includes: Pitching Strike Zone Target
A nice addition, especially for the price is the pitching target strike zone. 
With a clear visual target to aim for, there's an additional feature to help hone accuracy and control skills. 
One example of the benefit of using the strike zone for practice is how it can help you learn how to hit the corners of the plate and expand the strike zone so that you can be more effective against batters. 
To sum up, a great inexpensive rebounder that can help you up your fielding game without breaking the bank. Just a small caveat though, if older more experienced players are going to use it, we would generally recommend having somewhere you can sit the rebounder up against (like a wall) to keep it in place for those harder throws. 
Buy The Franklin at Amazon.com >>
---
Fortress Jumbo Pitchback Rebounder – The Largest Baseball Rebounder on The Market
Jumbo Baseball Pitchback Net (9ft x 7ft) –...
Size matters… in terms of baseball rebounders at least. Having a larger surface area on your rebounder will allow you to get the utmost out of your training and help you to improve your reactions, catching skill and hand-eye coordination.
Jumbo style rebounder offering huge variety of rebound positions
9ft x 7ft – it's big, but also very durable and sturdy
Can be used at home (space permitting) but fantastic for teams & coaches
High tension pitchback with 4 adjustable angles
Includes: High tension net and bungee cords
On the whole, we've been very impressed by Fortress products and their Jumbo Rebounder is no exception.
If you're looking for something a little different (or more?) then the Fortress Jumbo Rebounder brings something the other rebounders on the market struggle with – size. 
With the size of the Fortress, you'd be forgiven for thinking the functionality would be lacking. As you'll find out in a second, while size plays a huge importance to the selling point of this pitchback – it doesn't come at a cost of purpose or use cases. 
There's No Mistaking It, This Thing is Huge
At 9ft x 7ft, it really is big, so all-in-all I would generally recommend this net for coaches or teams. 
That said, if you've got a big backyard or don't mind the constant setup and dismantling – parents and families would get a lot out of it also. 
It could be used as a great multi-purpose net to stop stray balls and can also be doubled up to cover other sports too such as soccer or tennis for example. 
So if you're looking for something that outlives baseball practice and starts joining the realms of multi-sport activities (while saving money on lost stray balls in your neighbors backyard) then I'd definitely recommend you check it out.
However Its Functionality Isn't Compromised By Its Size. 
It's still adjustable to four different angles allowing you to easily practice reacting to grounders, pop-ups and everything in between.
It's also an incredibly strong and durable rebounder constructed with 32mm steel framing and a super strong polyethylene net which will certainly stand the test of time.
It is, however, an expensive option and its size makes it a tricky option for individuals to put in the back of the truck and start assembling it at random locations. 
But overall, it's a high quality product with top-end materials, and if you're the type of person who thinks bigger is better, this one's for you.
Fortress Jumbo – Show Me More >>
---
SKLZ Pitchback Rebounder – Best Budget Rebounder
Fantastic budget-friendly rebounder
Easily transported and able to fit almost anywhere
Quick setup and packing away time with easy-fold up feature
Best for youth players (under 10 years of age)
Includes: Strike zone & ground stakes
One of the main ideas behind the rebounder is to allow players to train their catching and throwing alone and the SKLZ meets its criteria perfectly.
Its small surface area (2' 9" x 4' 8") means it allows the SKLZ to fit practically anywhere whether it's indoors or outdoors and start training right away. Its frame is sturdy and its all-weather 21-ply netting is made to take impact after impact.
Assembly is quick and easy, so the SKLZ isn't only a great budget choice, but a great solution for anyone looking for a highly portable rebounder.
It folds away neatly and includes ground stakes allowing you to pop it up in any location from the yard to the garage to the park.
Essentially, this is a rebounder aimed more at youth players and shouldn't be considered for heavy-duty training, however it's a great option for individuals looking to practice alone.
SKLZ Pitchback – I Want To See More >>
---
Baseball Rebounders: The Ultimate Pocket Guide to Buying a Rebounder Pitchback
Taking all above into account, here are the features that we believe are essential to making a great rebounder and what you need to look for:
Durability: A rebounder needs to be solid and stand the test of time against continuous use. The longer a pitchback rebounder lasts, the better the value for money you'll get over the long term.
Portability & Weight: Can the rebounder be easily transported between training locations? Is there a carry bag included? Is it compact and lightweight how much space will it take up in storage?
Setup & Pack Up: Nobody wants to spend 30 minutes setting up a piece of equipment that's going to take another 20 minutes to dismantle. Training time is precious.
Price: Price doesn't always reflect quality. And you might have a different budget to someone else. The key is to find the right rebounder at the right price for your individual situation.
User Experience: Taking the experience of players, coaches and parents with children in the game into consideration is absolutely vital when choosing your next rebounder
Size: It's important to find something that fits into the space that you want to use it, but also isn't so small that it isn't as functional as other rebounders.
---
How We Rank & Compare Pitchback Rebounders: Our Research Methodology & Expert Baseball Reviews
It's important to put our products under the microscope of a real user – After all, this is an investment into your or your child's skill development.
We also want to foster an open policy on how our reviews are completed, and so with that said here are the 4 foundational pillars that drive all our reviews on MB:
Personal Experience: We have used these products ourselves for both testing & actual coaching experience. 
Professional Feedback: If we haven't personally used them our colleagues & other professionals in the industry have. So we get their feedback also.
Ecommerce & Retailer Data: Using information widely available to the public we go through everything with a fine tooth comb & collate all the most important points a user should know – saving them the time of doing it themselves. 
Industry Data Analysis: We also have access to various tools and software that allows us to measure the popularity & interest in the equipment we review.
Start Practicing Now w/ The Rukket Pitchback Pro
FAQ's About The Best Rebounders On The Market
Rebounders are fantastic way to add variety to your training sessions, provide an outlet for your young budding baseball star to practice on their own, and even in the case of some rebounders, double-up as rebounders for other sports such as soccer or tennis.
Here are a few of the more frequently asked questions to help you get a better understanding:
---
Does the ball go through the holes?: Nope. Well, not if you're using a good rebounder anyway. Each rebounder in the list above have been made specifically for baseball, so you can be safe in the knowledge that when you throw a baseball at the net, it will return with no issues what-so-ever. Now if you wanted to use a really small ball like a golf ball or or something – then for some nets, maybe. But we'd recommend if that's the route you go, that you get a rebounder net specifically made for smaller balls.
---
Do rebounder's fold for storage?: Short answer, not all of them. For example the Fortress Rebounder above doesn't fold – however the Rukket Pitchback Pro does. So before you purchase your rebounder, be sure that you know exactly how you're going to be using – if you need one that folds for extra portability then make sure you choose one with this feature.
---
Are they sturdy enough for adults?: Again, it depends. While all of the pitchbacks above are of high quality, some will be suited better for adults than others. The Rukket Pro or Fortress Jumbo would be the best bet for adults. However, if you do find yourself using the Franklin even though you bought it for your little one, one way to help keep the rebounder in place for stronger throws is by putting the kickstand up against a wall.
---
Are they safe for kids to operate?: I'm going to be straight with you here and say – even if you feel like they are safe, it's best to keep the setup and dismantling to the adults. Allowing your young baseball stars to start messing with the mechanical features of the frame can increase the likely hood of injury. While kids may be able to move a few of these rebounders, we'd generally recommend no kids to actually operate the adjustable angles for safety. But again, as the parent this is your call.
---
Can you move the strike zone target?: For most of the rebounders that come with a strike zone target, yes you can move it. So if you're looking to replicate different hits from a batter while improving accuracy, then by all means feel free to move the target zone to a position you feel is best for your training.
Finding the best pitchback for you…
It's tough to pull the trigger on training aids because you'll never know if they will break and actually work.
A few years ago, investing in one of these pitchbacks would be silly. However, times have changed and so has technology…
That's great news if you're looking to buy one of these. Follow our guide to help speed up the process and make the right decision on choosing the best baseball rebounder.