The world has changed remarkably since the 1980s. It was the decade that saw the easing of Cold War tensions and the fall of the Berlin Wall giving people hope of a more liberal future.
In a similar way, the world of Major League Baseball has gone through some whirlwind changes since then.
Back in the 80's, the league was open and titles were anyone's for the taking, and no team really dominated the sport as a major dynasty.
There were some notable sides that did stand out, however. The New York Mets team of 1986 and the 1988-89 Oakland A's were arguably the strongest sides of the decade.
On the world stage, the Cuban team emerged as a real force in international baseball with the country producing some of the decade's finest players such as Omar Linares and Orestes Kindelan.
As in most eras, baseball in the 80's was not without its share of controversy.
The 1985 drug trials shone a light on players who were using illegal substances and struggling with addiction. The end of the decade also saw Pete Rose banned indefinitely from baseball for allegations of match-fixing, an accusation he continued to deny for years to come.
The Truth About Baseball Cards From The 80's

 
During the 1980s there was a huge surge in the number of people collecting baseball cards with more and more people being attracted to the pastime.
Cards were produced at a much higher rate than in previous years to meet demand so mainstream cards from the 80's don't hold an incredible value.

The most valuable baseball cards of the 1980s tend to be limited editions or variants of mass-produced cards that have something different or special about them.
Combine this with a professional mint grading and you're looking at a pretty valuable card. The only problem is, there aren't many cards from the 80's in mint condition in circulation so huge values are a rarity. 
Here's our rundown of the most valuable cards of the 1980s.
Other Recommended Reading From Our Baseball Card Series…
Rickey Henderson (1980 Topps RC #482)
This is arguably one of the most sought-after cards from the 1980s and it's not an easy feat to find one well preserved which fuels its value.
4,700 versions of Henderson's 1980 rookie card have been put forward for grading by the BVG and of those only one has been graded as a 10 giving it a worth well into the thousands.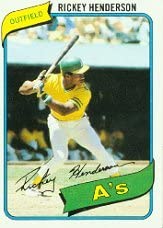 Cal Ripken Jr. (1982 Topps RC #21)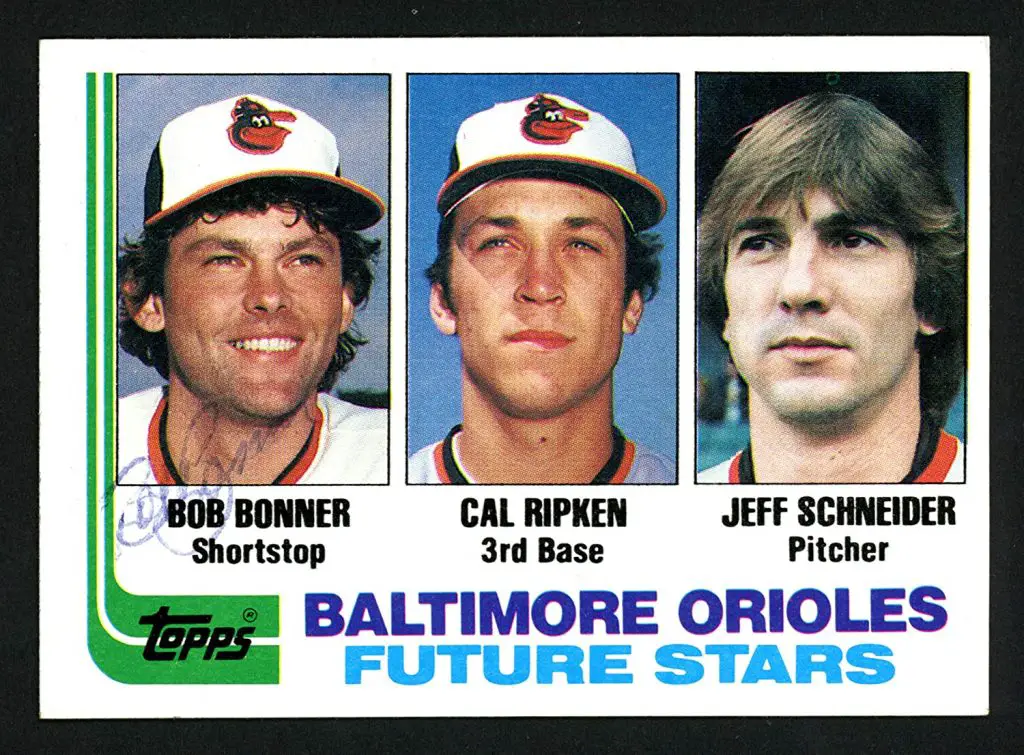 Ripken Jr. has to be regarded as one of the best shortstops in the history of baseball.
There are a number of valuable Ripken Jr. cards out there but his 1982 Topps card is considered one of the best. Numbered 21 out of a set of 792 with a landscape design, the card is as stylish as they come.
Right now, a PSA 10 gem mint edition would expect to fetch $2,000 – $3,000 at auction.
Tony Gwynn (1983 Topps RC #482)
Tony Gwynn was surely one of the all-time greats of modern baseball and arguably the best hitter of the last 30 years.
His 1983 Fleer rookie card is also a gem for collectors but it's the Topps card from 1983 that holds the higher value.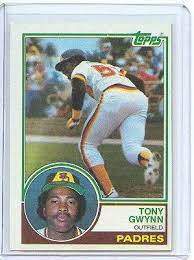 Dwight Gooden (1984 Fleer Update RC #U-43)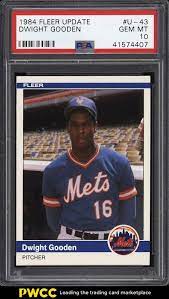 This one's a bit of a curveball in the list, to be honest, and its value hasn't got a great deal to do with the exploits of Dwight Gooden.
In fact, this card's value lies in the set that it came from.
The Fleer Update set of 1984 is one of the least attainable of the '80s and cards from this set are coveted by collectors.
Roger Clemens (1984 Fleer Update RC #U-27)
Another highly valued card from the 1980s comes from the same Fleer Update set as the Dwight Gooden card.
It's currently considered a valuable card, however, prices are expected to soar in the future if Clemens is inducted into the National Baseball Hall of Fame, so it's certainly one to watch and, if you own this card, one to sit on for a while.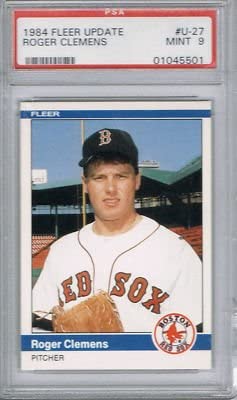 Mark McGwire (1985 Topps RC OLY #401)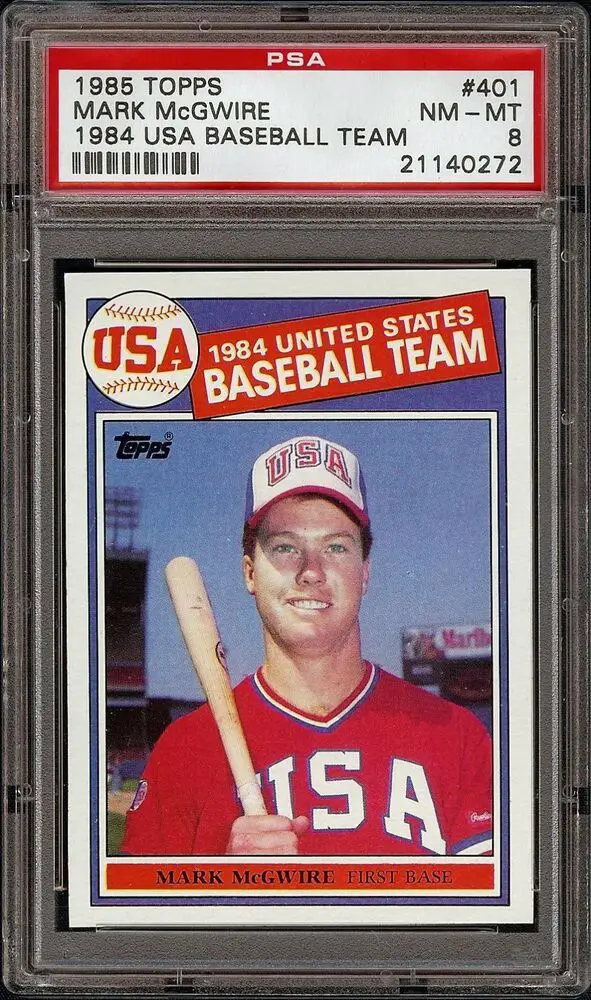 This isn't the rarest card on the list but it's one of the coolest.
Back in the day, it was well sought after by collectors because it's from the USA national team and McGwire can be seen wearing the USA jersey and matching baseball cap with a red, white, and blue color scheme making it highly collectible.
Now, lower graded cards won't fetch that much but a high PSA rated card could definitely attract a few top-dollar bids.
Barry Bonds (1986 Topps Traded XRC #11T)
It has to be said, this is one good-looking baseball card.
The yellow-on-black lettering spelling out 'Pirates' in a bold font tops the card and below, Bonds looks into the camera with his bat casually resting over his left shoulder.
You're likely to see standard versions of this card selling for modest sums, but a Topps Traded Tiffany edition is worth over $1000 in today's market.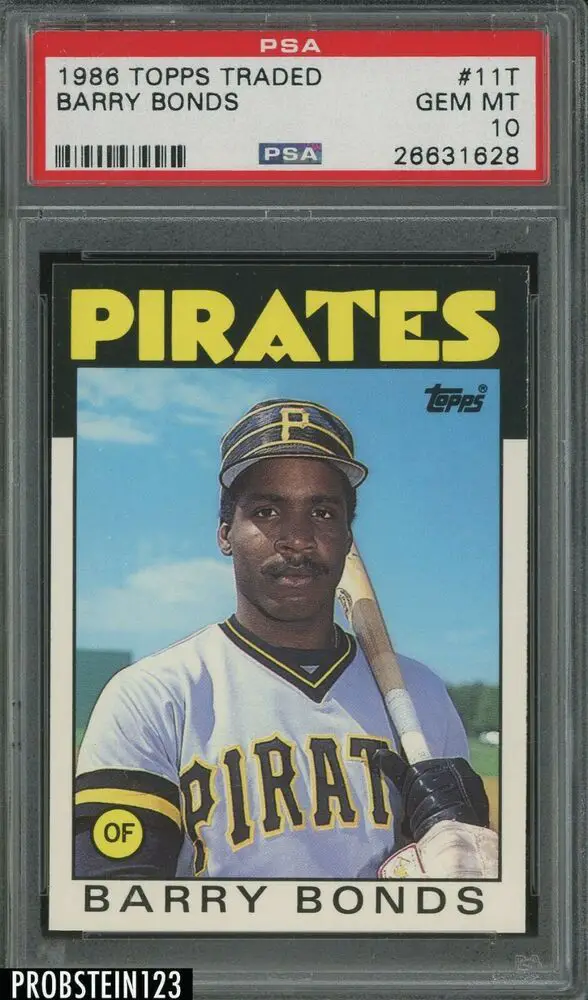 Will Clark (1986 Topps Traded Tiffany XRC #24T)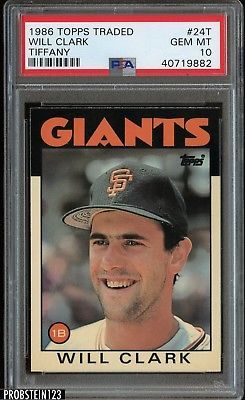 Here's another incredibly cool baseball card from the same set. "Will the Thrill" as he was nicknamed turned out to be a six-time All-Star and won two Silver Slugger titles.
A mint version of this card might fetch up to $500 at auction.
Ken Griffey Jr. (1989 Upper Deck Rookie RC #1)
We all know Ken Griffey Jr. – the guy's a legend and if truth be told, there are a tonne of his rookie cards from a variety of sets available so on the whole, they're not that valuable.
But, if you're lucky enough to have a high-graded Upper Deck Rookie card from 1989, it could be worth up to five hundred bucks.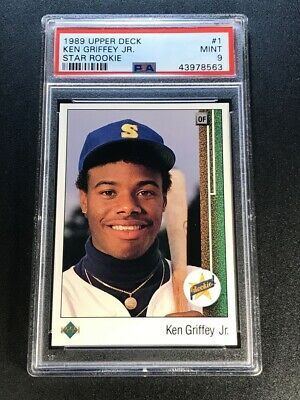 Ken Griffey Jr. (1989 Bowman Tiffany #220)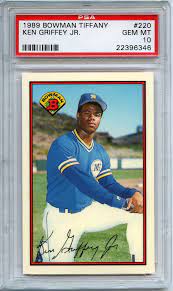 Another Griffey Jr. rookie card in the list.
This one is much rarer than the others as there were only six thousand made and put out into circulation.
It's the hardest Griffey Jr. rookie card to get your hands on and in recent years, values have sky-rocketed. Every serious collector out there would want one of these.
Disclaimer: Please be aware that we are humans – so mistakes may happen when uploading images and text to be published – if you notice any mistakes, please don't hesitate to drop us a message 🙂 In regards to investing in baseball cards, please ensure you use this information as entertainment and informational only – it is not intended to be used as investing advice and you are solely reponsible for any decisions you make with your money 🙂 Happy Trading 😀