Need to Improve Your Power at the Plate? Find out how Weighted Baseballs for Hitting Could Be Your Answer!
The intense debate continues on weighted baseballs for hitting. There are plenty of coaches out there that endorse them, but others will tell their players to beware of the dangers.
The bottom line we're all looking for is results.
Many players and parents are always asking if it's even possible to improve hitting from using weighted balls.
The short answer is yes, you can. If you use them properly and if you have a series of drills that have worked for someone you trust.
Hopefully you are already past that step in the process and looking for the best available balls on the market right now.
Using them can really benefit players who have a hard time finishing their swing. You can improve your follow-through, extension and most importantly… bat speed!
Want to Take Your Hitting to New Heights?
Visit Our Friends at Baseball Rebellion for a list of their amazing hitting products and coaching programs.
The best part is, our readers receive a 10% discount!
Use Code: MFbaseball
Choosing the Best Weighted Baseballs for Hitting
Important things to look for when deciding what's best:
This may sound obvious, but look for high quality sand weighted balls.
How do you know what is high quality?
For starters, look for trusted brands. There are a lot of really good brands out there in the baseball world that are manufacturing weighted balls.
Some are better than others, of course. That's what this Top 5 list is all about.
However, when you're doing your own research, make sure you put that at the top of the list.
Next, you should read the reviews of previous buyers. Then, make sure when you read those reviews they match your opinion on the subject on what you're looking to use them for.
Lastly, take our buying guide as a great resource. We put a lot of time and effort into creating this list for you.
Our research is spot on and we can't wait to show you so you can get the information you're looking for all in one place – Mind Fuse Baseball!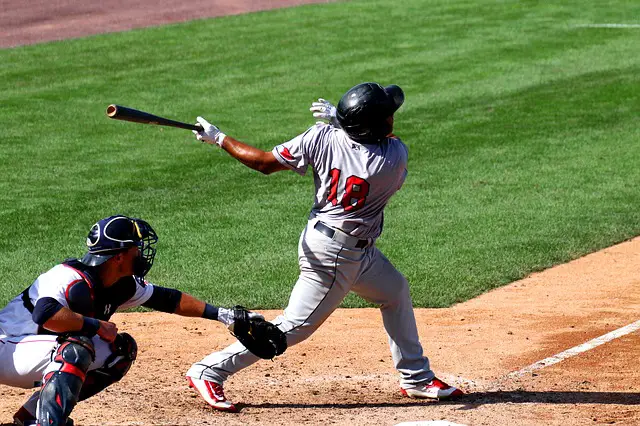 Weighted balls are becoming a super hot training aid right now, especially for hitters.
As we all know, they have been used in the past for improving arm strength, and it has worked for many players.
However, there's always a lingering fear. Coaches are afraid to sign off, or let their players use them because most coaches lack awareness.
I can tell you right now, as a college football coach for over 10 years – weighted baseballs do work especially if you know what you're doing.
Here's the deal… I've been using them for my quarterbacks for years. And, I emphasize YEARS.
I say that because that's how long its taken me to come up with a plan that works and that's safe
Review Section: Top 5 Weighted Balls for Hitting
We took the time to research what's working and what's not. These balls are the best of the best, from what we saw.
It wasn't easy coming up with this list, but we think we nailed it. Lastly, we averaged out the reviews on trusted shopping sites online.
#1: Rukket Weighted Training Baseballs

The Rukket brand has been around for a good amount of time now in the baseball world.
What makes these balls great?
Durability, quality and the feel.
Many ball players and coaches that bought these reported that there was an increase in bat speed.
There have also been reviews that using these balls consistently will help your follow through and increase hand strength.
Bottom line is, you will get results with these weighted balls for hitting purposes.
Rukkus is gaining huge popularity as a baseball brand in the United States. Their products are grade A and are trusted by some of the biggest college baseball programs across the country.
#2: Precision Impact Baseball Weighted Balls
Precision Impact has done an outstanding job of branding. You have to admit that box in the image looks pretty awesome!
But that's not why you're here. You're here to see if these balls will improve your hitting.
The short answer is yes, they do. The one thing you need to realize is all the big hitters in today's game are starting to use weighted balls.
Why?
Easy, because it is actually helping batters gain faster bat speed and hitting power.
Who wouldn't use secret ways to improve their game?
What we think from reading a bunch of reviews is Precision Impact is really starting to take off.
We love their branding and their product is really high quality according to multiple player reviews.
#3: PowerNet 2.8″ Weighted Hitting Balls
Built with an outstanding outer shell, the PowerNet 2.8″ series is a hitters dream.
Want to take your hitting to the next level?
You better be answering YES (or else…) Just kidding.
You should want to reach your goals and these weighted balls are a way to do just that.
Reviews from players report an increase in bat speed, an increase in power, and a consistent way to practice their swing mechanics while focusing on strength.
What about Durability?
At the end of the day, you will be crushing these balls with a bat over, and over again.
Yes, these balls will last a long time. However, they won't last forever. That goes with any kind of weighted ball that you'll be hitting with a baseball bat.
Our take: This brand is a great choice, you can't go wrong with it. The reviews back that statement up.
#4: SKLZ Contact Ball Weighted Training Baseball
SKLZ is one of those baseball brands we are all beginning to trust. The good news is they are starting to make weighted balls, and high quality ones!
The reviews?
Short and simple, the reviews left by players and coaches that bought these are very good.
Most of them highly recommend the product and testify that it helped improve their hitting. Players will do just about anything if it helps them improve.
Our take on SKLZ:
It's a great brand and you can't go wrong with that. The reviews are solid. We wouldn't put this ball in the top 5 if we didn't think it was worthy enough. Go with it!
#5: QuickPlay Weighted Sand Balls for Hitting
Quicklplay weighted sand balls are on its way up in the baseball community.
That's probably because of the high quality products they've been pouring out year after year.
If you're ready to take your swing to the next level in terms of power, purchasing this set of weighted balls will do just that.
Swing speed, power at the plate and consistent technique will arise when you implement good drills that go along with the QuickPlay brand.
Our recommendation is you can't go wrong with QuickPlay. Excellent quality weighted balls, especially for hitting.
Conclusion
Hopefully this guide helped you get on to the next step in the process of buying weighted balls.
Improving your play at the plate requires hard work and discipline. Consistent hitters use the best baseball equipment guides to find out how to improve their game.
We know you'll find the best weighted balls for hitting.