It's Not Easy Practicing by Yourself, Unless You Have the Best Baseball Rebounder that works for you!
The best part about practicing your skills for baseball is that you can do it almost anywhere, as long as you have the right equipment. If you're looking for a practice tool that can keep you busy, work on your fundamentals and have fun all at the same time, then finding the best baseball rebounder may be one of the smartest investments for you or your kid.
When we were young, these bounce back nets were just coming out, and the technology wasn't really there yet. The good news for you is companies have constructed some powerful pitch backs that are used by major colleges and professional ball clubs.
Best Baseball Rebounder 2020
The last thing you want to do is buy a rebounder that keeps tipping over, falls apart or flat out doesn't do what it's supposed to do. Frustration sets in and you're right back where you started – without a way to practice the fundamentals, keep busy and have fun.
Luckily, I consulted with my brother Jonathan, who played professional baseball for years. I thought these bounce back nets were a fluke, until I asked him about them. Surprisingly he supported them, but he also mentioned only if you get the right ones.
Choosing The Top Pitchback Nets
We made a top 3 list to save you time and money on research and testing. The pitchback nets we show in this reviews guide are currently being used by major Division I college programs and multiple Professional baseball clubs, including the Major Leagues.
Reviewing the Best Baseball Bounce Back Nets
We always do our homework on researching the best baseball equipment by reading reviews and relying on our professional sources that have actually used, tested and recommend these types of products. Click here to jump over and see a list of all of our buying guides.
Top 3 Best Rebounders for Baseball
We'll show you the 3 best baseball pitch back nets by providing a list of features followed by the pros and cons. We also find the best deal on amazon and send you right to the product page for an easy check out. When you purchase a product through our Amazon link it helps keep our website up and running. Our site helps all levels of baseball players improve their performance.
Let's all be on the same page here with pitch back/rebounder nets. There aren't any products out there that are perfect.
The sole purpose of these nets is to improve your fundamentals, warm up for a game and be able to practice on your own.
These are the best rebounders for baseball out there in the market that we have found. Now, let's jump right into our Top 3 list so you, or your kids, can start keeping busy and improve their performance on the ball diamond!
#1: Rukket Pitch Back Rebounder PRO
Leading off our top three list is the Rukket brand. This is one of the most popular rebounders on Amazon and for worthy reasons.
First of all, you can't beat this price for the quality of this particular net. Second, there are hundreds of positive reviews left by current ball players, coaches and parents. Lastly, you can produce realistic ground balls, pop flys and line drives.
Is it Adjustable?
To simply answer this question: Yes, it is very adjustable. It's also very easy to adjust so you don't have to worry about it getting stuck in one position. You can adjust this pitch back net at different angles so you can work on specific looks.
Easy to Assemble?
Very easy. In fact, Rukket created this pitchback with the mentality of an easy assembly so they wouldn't frustrate their customers.
Our Opinion:
Like we said before, for the price and the amount of positive reviews left by real baseball players, coaches and parents, you are getting a very solid product. As long as you use the net the right way and don't abuse it, it will get the job done for what you should be trying to accomplish, which is to get more Reps, improve your play and have the ability to practice on your own when your playmates aren't around.
You can watch a short video on Rukket's Pitch Back PRO Net below:
Not Meant for High Velocity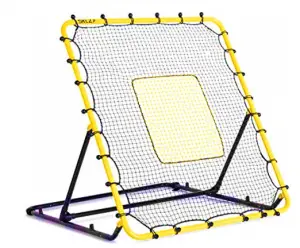 The SKLZ Rebounder Net is very unique because you can adjust it for grounders, pop fly's or even line drives. The SKLZ brand has been flourishing in our sport of baseball – creating high quality training tools that are focused on improving players' skills set. This is one of the best baseball pitchback nets you can find at the price.
The whole point for a rebounder net is to be able to work on your fundamentals by yourself, mainly because you don't have anyone to practice with at that current time. Most of the pitchback nets that are sold world wide aren't going to be able to handle 90 MPH fastballs on a consistent basis. However, this pitching and fielding training net will help you get what you need out of it – practicing fundamentals anytime you want.
Is This Net Adjustable?
Extremely adjustable. You can practice ground balls, line drives and fly balls. This net prides itself on being the only baseball pitch back net that provides 3 realistic game-like ball returns.
Is it Easy to Set Up / Assemble?
It is actually designed for an easy assembly and set up. It's also designed to be easily taken down and folded up so you can simply store it anywhere.
Our Opinion:
This is a great training tool for the price. We love how it is easily adjustable so you can practice realistic looks and get those repetitions in before your game or on an off-day. There are higher level teams using this, such as Division 1 baseball programs and some professional level clubs.
In our humble opinion this net isn't perfect, but there is no rebounder net that is. However, SKLZ is a solid brand and if you use these types of nets the way you are supposed to, it will work just fine.
You'll need to throw it accurately to be able to get the perfect bounces you are looking for. Keep that in mind as you are looking to purchase one of these training tools.
Always remember, you can't expect a perfect pitchback net – that's why you go to practice and take ground balls or pop fly's from your coach. At the end of the day this net does the job!
Watch the Video Below:
Can't Throw it Super Hard
#3: Rukket Multi-Sport Rebounder
Our number 3 pick? The Rukket 4×7. This is made for lacrosse players, but there are actually a lot of baseball players that like this net because it is pretty heavy duty.
Featuring more than 20 square feet of superior ball return surface, this can be considered the best baseball bounce back net out there.
Adjust-ability
Easily adjust the angle to work on different types of bounce backs. You can work on one-hoppers, full ground balls, line drives and pop flys.
Assembly
It won't take long putting this thing together. It is a little bigger than the first two suggestions, but it's built with high quality steel that is backed by a lifetime guarantee.
Our Opinion:
This is an excellent choice. The price is higher than the first two we suggested. However, the quality is extremely good. The only downside, if this is even a con, is that it is meant to be for lax players. If you can get over that, this pitch back is the real deal.
Find The Best Baseball Pitch Back For You
It's tough to pull the trigger on training aids because you'll never know if they will break and actually work. A few years ago, investing in one of these pitch backs would be silly. However, times have changed and so has technology!
That's great news if you're looking to buy one of these. Follow our guide to help speed up the process and make the right decision on choosing the best baseball rebounder!