Best Baseball Hitting Books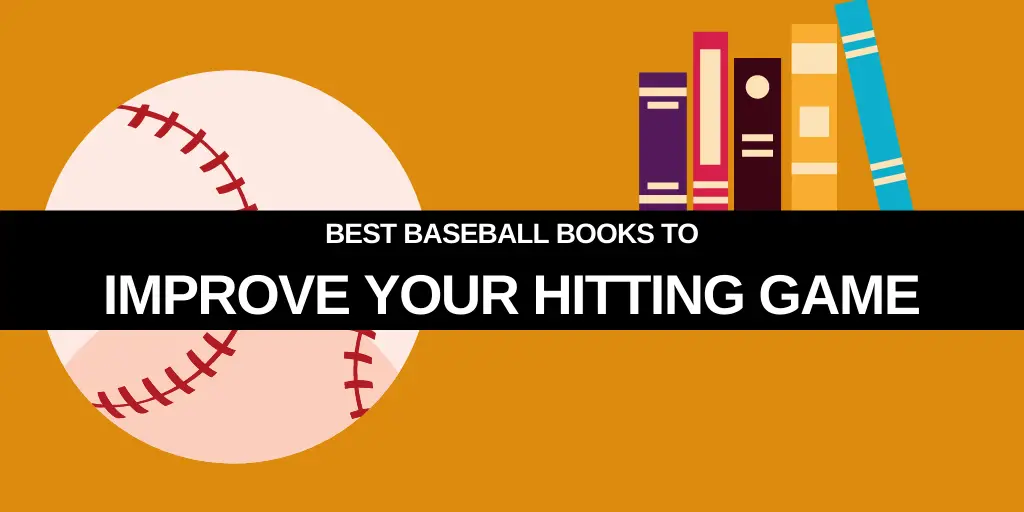 Baseball, like any sport requires you to practice. Nothing beats actually getting on the field and failing your way to improvement. 
You can read all you want about how to hit a baseball but until you get out there and do it – you're not going to make the progress you need to take your game to the next level. 
That said however, contrary to popular belief, understanding the theory of practice and listening to the advice of professional and legends of the game that have come before us is a vital part of our development. 
In short – ignore it at your own risk. 
In this guide, I've rounded up the best books to help hitters improve their hitting mechanics and overall baseball game. Everything from the physical to the mental side – beginners to advanced – it's all covered in one or more of the books below. 
We'd recommend, taking the advice in each book then taking your new-found knowledge to the practice net, then practice practice practice until you start to see, feel and hear the improvement in your game. 
So if you're looking to take your hitting (or if you're a coach – your players hitting) game to the next level here are the top 7 best baseball hitting books to help you on your quest…
#1: The Science of Hitting
Red Sox legend

and six-time American League champion

Ted Williams provides a comprehensive,
well
illustrated guide to becoming a master hitter
Williams is held in high esteem as one of the greatest hitters of all time and The Science of Hitting is a must read for anyone looking to improve their technique and take ownership of the strike zone.
His book contains clear instructions on tips, techniques and the science behind batting to help you fine-tune your approach and swing to become an all-round better batter.
The book is timeless and re-readable with advanced analytics that still hold relevance to the modern game and Williams' methodology is adaptable to different situations faced by batters.
Whether you're just starting out in little league or a seasoned hitter, you'll find a wealth of knowledge between the pages of The Science of Hitting to help increase your skill and understanding of the game.
[su_service title="Pros" icon="icon: thumbs-up" icon_color="#008000″ size="32″ class=""]
---
Clear instructions

Digs into the science behind batting

Timeless information

Adaptable to different batting situations
[su_service title="Cons" icon="icon: thumbs-down" icon_color="#FF0000″ size="32″ class=""]
---
#2:

The Mental Keys to Hitting

 
A Handbook of Strategies for Performance Enhancement
Whilst the physical and biomechanical aspects of hitting are incredibly important, Dorfman explores the psychology behind becoming a successful hitter.
There are many crucial mental factors that come into play, not only in matches but also in training and the clear information in The Mental Keys to Hitting will send you on your way to understanding them.
The unique insights contained in this book make it a great aid to up and coming players and coaches alike.
Dorfman was a well recognized sports psychologist and respected throughout baseball and with the help of his book, aspiring batters will become independent and develop a consistent mental approach to the sport.
Confidence and the ability to maintain control at the plate are crucial aspects to baseball and Hofman's guide is an excellent aid to help you achieve both.
[su_service title="Pros" icon="icon: thumbs-up" icon_color="#008000″ size="32″ class=""]
Dig into the psychology behind hitting

Clear information

Unique insights

Great for both players and coaches
[su_service title="Cons" icon="icon: thumbs-down" icon_color="#FF0000″ size="32″ class=""]
Not that suitable for younger players. More geared towards adults and older players
#3: Mind of a Superior Hitter
The Art, Science and Philosophy – Michael McCree
This in-depth text book provides the reader with a broad view of what it takes to become a top baseball player.
McCree's style is informative and detailed and the book contains many insights and tips from well-decorated professionals to help improve technique and understanding.
The book contains information on how to deal with slumps, how to develop focus in training, how to adapt your swing and how to play with a more positive mental attitude in order to improve your batting average.
Mind of a Superior Hitter is highly recommended and a must-read for anyone who wants to delve into the philosophy of hitting and become a better player.
The information within the book is sure to benefit not only the reader but their teammates as well thanks to the author's ability to improve positivity.
[su_service title="Pros" icon="icon: thumbs-up" icon_color="#008000″ size="32″ class=""]
Learn what it takes to become a top batter

Insights and tips from some of the best professionals in the game

Improve technique and understanding

Discover how to deal with slumps

Learn how to improve focus

Understand how to adapt your swing
[su_service title="Cons" icon="icon: thumbs-down" icon_color="#FF0000″ size="32″ class=""]
Best for beginner and youth players – not so much more advanced adults
#4: Baseball Hitting Drills For a Batting Tee
Practice Drills for Baseball, Book 1 – Doug Bernier
With 20 excellent batting tee drills accompanied by videos available to stream, Doug Bernier's guide will help you get the most out of your training sessions.
The book clearly describes each practice drill and its benefits for the hitter.
There are also excellent, colorful illustrations to assist the descriptions and help the reader better understand the drills.
The greatest benefit of this book is the interactive bonuses included, such as the online training videos and the linked webpage which contains fantastic reviews of the best bats, gloves and tees.
With these added resources all in one place, you'll have the knowledge and recommendations to send you on the path to becoming an elite hitter.
The book itself not only provides hitting training drills, but explains why and how they are useful to the batter allowing you to easily incorporate them into your game.
[su_service title="Pros" icon="icon: thumbs-up" icon_color="#008000″ size="32″ class=""]
Helps you upgrade your training sessions

Fully-colored illustrations for easy reference 

Comes complete with interactive bonuses including training videos

Illustrations accompanied with detailed descriptions
[su_service title="Cons" icon="icon: thumbs-down" icon_color="#FF0000″ size="32″ class=""]
Again great for beginners and intermediate players and coaches. Advanced players may find a lot drills they already know and implement
#5: Baseball Hitting Mastery
Art of the Line Drive Swing – Tim Quiery
Quiery's guide book is dedicated to helping improve a batter's ability and mindset and giving players the right attitude to competing.
The book specializes in teaching batters how to find balance and rhythm pre-pitch, establish good timing at the plate, build a strong grip and find the most powerful contact point and develop and fully extended swing.
The author has worked across the world coaching a variety of age groups from little league to pro leagues and although his book is concise, it contains highly detailed instructions on how to develop your hitting and transform beginners into advanced hitters.
By implementing elements of this book into your batting, you'll be well on your way to becoming a much improved baseball player.
[su_service title="Pros" icon="icon: thumbs-up" icon_color="#008000″ size="32″ class=""]
Helps improve mindset and attitude

Improve balance and rhythm among youth players

Learn how to build a strong grip

Great for younger players 

For batters who want to get to the next level in their hitting ability

Consise and to the point
[su_service title="Cons" icon="icon: thumbs-down" icon_color="#FF0000″ size="32″ class=""]
Nothing really new for advanced coaches – beginner to intermediate coaches however will get a great foundation to work from
#6: The Catapult Loading System
How to Teach 100lb Hitters to Consistently Drive the Ball 300 Feet – Joe Myers
Joe Myers explores a highly effective and physically safe method of improving a batter's hitting distance in The Catapult Loading System.
This a real science approach to improving hitting in a way which will not lead to injuries or physical problems further down the line.
Myers' approach will have the reader improving their body movements and breaking old habits to improve their hitting distance whilst maintaining efficiency.
The book's methodology is incredibly useful for rookie players, advanced hitters and the theory behind the catapult loading system is a great teaching tool for coaches of all abilities.
The science of human movement is what counts here, rather than the movement of the bat, and by using this technique, you'll be able to dramatically improve their swing and develop a safe and secure technique to protect their body and ensure a long and successful baseball career.
[su_service title="Pros" icon="icon: thumbs-up" icon_color="#008000″ size="32″ class=""]
Improve hitting distance without casuing injury

Understand the mechanics in detail

Great for all abilities and playing levels

Focuses on science – not fluff

Ensure players longevity in the game
[su_service title="Cons" icon="icon: thumbs-down" icon_color="#FF0000″ size="32″ class=""]
A little repetitive in some sections
#7: The Louisville Slugger Complete Book of Hitting Faults and Fixes
How to Detect and Correct the 50 Most Common Mistakes at the Plate – John Monteleone
This book explores the factors that lead to hitting slumps.
These can be both physical factors and mental factors and Monteleone aims to aid batters in correcting these common mistakes.
By highlighting and providing detailed analysis on the 50 most common faults that occur in batting, Monteleone is able to provide a step-by-step approach to help the reader correct them.
The issues facing hitters, though common, are of a varied nature and the book covers them all from problems with stance, pre-swing movements, hip rotation, weight transfer, the swing technique and mental approach.
This book is a must read for anyone looking to study their technique and find detailed solutions to help improve their game.
It also serves as an excellent coaching manual as it contains superb, systematic approaches to the difficulties faced by players.
Having the knowledge to identify and fix these problems is key to success and will make the reader a true student of the swing.
[su_service title="Pros" icon="icon: thumbs-up" icon_color="#008000″ size="32″ class=""]
Improve your batting by address common faults

Explores both the physical and mental factors affecting a batters game

Discover 50 of the most common hitting mistakes

Dig into; stance, pre-swing, hip rotation, weight transfer, swing technique and the mental aspect of the game

Provides you with the difference in your baseball performance you're looking for 

Become a student of the swing
[su_service title="Cons" icon="icon: thumbs-down" icon_color="#FF0000″ size="32″ class=""]
While it's a great book for referencing each of the faults – a summary at the end of the book would've been a nice touch